8 Young Musicians On the Brink Of Huge Success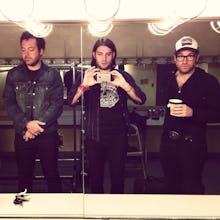 In 2013, indie music continued its long climb to the forefront of popular music. Regardless of what genre of music you prefer, everything in the mainstream started to converge on what would have been considered indie 10 years ago. This is opening up the field for a number of rising stars in the indie scene who, suddenly, have crossover appeal.
Expect more from the artists who had their big break in 2013. These eight artists are about to be huge.
1. Kid Ink
A rap/hip-hop newcomer, Kid Ink, released his first album entitled My Own Lane a week ago at the age of 27. Already, he has a song on the top of the rap charts — "Show Me ft. Chris Brown" — and has been gaining speed with other tracks from the album like "No Miracles." It's apparent that Kid Ink is here to stay.
2. Mockingbird Sun
Playing in venues like Nashville's The Bluebird Café, Mockingbird Sun has a contemporary country sound that's completely accessible to listeners with more indie sensibilities. Melding superb, intimate storytelling with huge hooks, this band has the perfect sound to win big in a Mumford-loving world.
Mockingbird Sun's organic vocals and strings will bring 3, their third EP, to the country charts. You'll be singing along to "That Girl Tonight" and "Hard Habit to Break" after only one listen.
3. Abigail Rose
Singer/songwriter Abigail Rose is only a senior in high school, but she has already opened for the Grammy-nominated Eli Young Band and played at the famous CMA Fest in Nashville alongside artists like Brad Paisley, Phil Vassar, and the Zac Brown Band. Her EP, See Me Now, is pure songwriting genius. We'll call it now — she's quite possibly the next Taylor Swift. Look out for the tracks "Breathe the Smoke" and "Better Broken."
4. Bastille
Bastille made his big splash in 2013 with the hit "Pompeii," and an album released towards the end of 2013. This pop group mixes chants, bass drops, and lead singer Dan Smith's voice to create an interesting mix between EDM, pop, and religious music. Their album, All This Bad Blood, is only the beginning for the pop phenomenon.
Their recent single, "Of the Night," already has over eight million views on Vevo and debuted at No. 2 in the UK Top 40. Look for a big year ahead from Bastille.
5. Lindsey Stirling
A graduate of Brigham Young University, Lindsey Stirling is not your average EDM artist. An expert violinist, Stirling mixes classical music with electronic elements on her self-titled record, but it never sounds gimmicky. Her songs "Crystallize" and "Spontaneous Me" are sure to be radiating from of clubs across the globe, within the year.
6. AWOLNATION
With the hit song "SAIL," AWOLNATION emerged onto the pop and electronic scene. His record, Megalithic Symphony, took us back to basic beats from the beginning of the electronic sound in the 1950s. "SAIL" was merely the beginning for this nuanced artist. This past year, they broke out even farther with songs like "Some Kind of Joke."
7. Mike Will Made It
24-year-old Atlanta-based producer Mike Will Made It made his mark permanently on the music scene when he produced Miley Cyrus' newest album, Bangerz. He released the first single, "23," from his untitled album in November. The song, featuring Cyrus, Wiz Khalifa, and Juicy J, is already on top of the rap/hip-hop charts.
8. The Neighbourhood
Alternative group, The Neighbourhood, has a very simple, slow sound. Their hit single "Sweater Weather" put them on the indie radar early in 2013 and they've been slowly climbing into the mainstream since. Making their album, I Love You, The Neighbourhood figured out how to reach a broader audience with songs like "Afraid."
They'll be one of of the big indie break-out acts of 2014.