What Time Do the Golden Globes Start? And Other Important Questions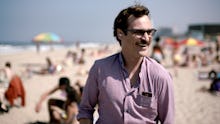 So we've been talking all about the Golden Globes on this live blog, but maybe you have some really solid fundamental questions like, when are they? How do I watch them? What is a "Golden Globe"? Let's break it down. 
When are the Golden Globes? They're Sunday night, aka tonight.
What time do the Golden Globes start? Officially at 8 p.m. (ET) but red carpet coverage begins at 6 p.m. 
What channel are the Golden Globes on? Really good question. They're on NBC. 
What time can I go to bed? Pretty much whenever you want, but the broadcast is scheduled to end at 11 p.m. 
And, like, what are the Golden Globes? They're that fun, slightly drunken awards show celebrating both movies and television. Pretty good stuff.