Golden Globes 2014 Best Supporting Actor: Who Will Win?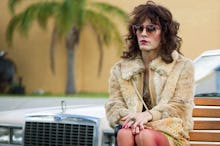 There are amazing nominees in this category this year. Like, really really amazing. Here is the nominee breakdown: 
Michael Fassbender, 12 Years a Slave
As for who will win, I think there are three gentlemen with incredibly good odds: Michael Fassbender, Jard Leto, and Barkhad Abdi. Bruhl is out because the movie wasn't taken seriously enough, and Cooper is out because his role wasn't as showy as the others. Abdi was excellent in Captain Phillips but both he and Fassbender will probably be overlooked for Jared Leto who really delivers a career-defining performance in Dallas Buyers Club. Kind of hard to think of him as Jordan Catalano now, isn't it?