Watch the Miyazaki Tribute Every 'Simpsons' Fan Will Love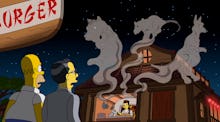 Famed Japanese filmmaker Hayao Miyazaki (Spirited Away) has announced that his new film The Wind Rises will be his last.
In celebration of Miyazaki's work, another beloved animated creation, The Simpsons, now in its 25th season, is paying tribute to the anime master in this week's episode. The segment threads together important characters and motifs from Miyazaki's films like My Neighbor Totoro, Howl's Moving Castle, and Kiki's Delivery Service. The episode, "Married to the Blob," will feature Comic Book Guy's attempts to date a Japanese woman who is writing an autobiographical manga. Having downed too much "snake wine," Homer finds himself in a fantastical Miyazaki-haze.
This episode couldn't come at a better time to remind moviegoers (and awards show voters) that Miyazaki remains a cinematic giant — the gold standard for animation. There has been some controversy surrounding The Wind Rises, as the film is basically a biopic of Jiro Horikoshi, an aeronautical engineer whose designs led to the Mitsubishi A6M Zero fighter, which was used during World War II.
The film, targeted to adults, has also been attacked for featuring at least eight scenes in which characters smoke cigarettes. Still, transposing Miyazaki's whimsicality onto the humorous world of The Simpsons not only plays a wonderful tribute to the filmmaker, but also proves The Simpsons' continued relevance despite being in its 25th season.