Al Shabab Loves Social Media, But Now They've Banned the Internet For Everyone Else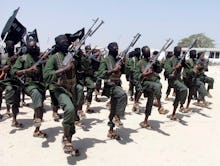 Over the past few years, Somalia's militia has banned smoking, soccer, wearing bras and all things considered "western." Now, the Al-Qaeda-linked group Al Shabab is going after the source of spreading western customs: the Internet. 
In a statement released on Facebook, the militia claimed it has shut down use of the world wide web in areas it controls, thus giving companies, firms, and people 15 days to comply. Those who do not comply will be seen as "working with the enemy."
"Services known as mobile Internet and fibre optics must be stopped in Somalia. Any firm or individual who does not comply will be seen to be working with the enemy and will be dealt with in accordance with Islamic law," wrote the militia on its al-Andalus radio station Facebook page. 
But there is one problem: The militia is hitting itself where it hurts. The group consistently uses Facebook, YouTube, and Twitter to spread their messages and propaganda. Members have used Twitter in real-time to report on attacks, like the assault on the Westgate, for which the group has claimed responsibility, and militants' activities on the ground. The internet ban may very well hinder Al-Shabbab's ability to disseminate its own information. 
But just because can't people see the information doesn't mean the militia won't enforce it. In 2010, the group set off a bomb Kampala, the Ugandan capital, that killed hundreds of people as they were watching the soccer World Cup.
Only a small percentage of Somalia's population will be forced to partake in the new ban. Of Somalia's 10 million citizens, only 126,000 have internet access. That number is expected to rise as fiber optic cables become more readily accessible, but currently, the majority of the population is using the internet at cafes dotted throughout the country. The group said that those cafes will not be affected.
Previous bans on modern technology in the country, though, including those on music and money transferring services, have failed. In those instances, the militia's activities and spreading of propaganda, primarily through their radio station, were affected by the ban.