Meryl Streep Should Win the Best Actress Golden Globe, But Not For a "Comedy"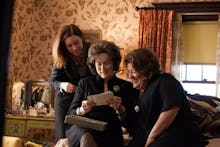 It is no surprise that Meryl Streep is nominated for a Golden Globe for her role in August: Osage County. She's wonderful. She plays a very difficult character to watch (a viscious mother, both addicted to pills and dying of cancer).
Indeed, Streep will probably win the award (unless Amy Adams nudges her out). She has won eight previous Globes (a record) and this nod marks her 28th nomination (another record). The odd thing about this year's nomination is that the Hollywood Foreign Press has dubbed August: Osage County a comedy, and Streep's chilling, difficult, and very sad character one of the best comedic roles portrayed by an actress.
Yes, Streep should win but she should be winning in the drama category. Instead, she's up against Amy Adams in American Hustle, Julie Delpy in Before Midnight, Greta Gerwig in Frances Ha, and Julia Louis-Dreyfus in Enough Said. To be fair, none of those films are really "comedies," they're just not uber-dramas. 
If the Globes were really nominating comedies, the winner for Best Actress in a Comedy would probably be Kristen Wiig from Anchorman 2 — a brilliant performance in an actual comedy. For now though, the Best Actress in a Comedy trophy might very well be going to one of the darkest performances of the year.