This Simple Gesture Has Sparked a Huge Controversy in France – Here's Why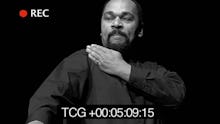 Dieudonné M'bala M'bala, the controversial French comedian who created the "quenelle" gesture, might have gone too far. Having been accused of anti-Semitism and insulting the memory of Holocaust victims, Dieudonné might now see a government decree ban him from the stage.
The quenelle controversy is one of those absurd debates where each side works hard to ignore the other's point of view. A "dialogue of the deaf," as we say in France. The quenelle, which literally translates to "dumpling," is a provocative gesture invented by comedian Dieudonné, where one's arm is intended to represent the length of said dumpling, which is to be stuck "where the sun don't shine." But recently, several pictures of people doing the quenelle in front of Jewish memorials have raised allegations that it is in fact an anti-Semitic gesture, a reverse Nazi salute.
The debate around the quenelle is perhaps emblematic of the person who invented it. French comedian Dieudonné is one of those subversive figures that most people either love or hate. His detractors accuse him of being racist, of holding anti-Semitic opinions and inciting others to racial hatred. His defenders are quick to point out that this is all happening under the guise of comedy, that Dieudonné is simply a provocateur. In truth, Dieudonné is both. A satirist and a humorist, yes, but also a political creature, with a documented history of anti-Semitism.
Now, calling the quenelle a "reverse Nazi salute" because it kind of looks like one if you raise that one arm and move your other hand from shoulder to chest seems a little absurd, and misses the point. Why make unverifiable allegations when you can just stick to the facts? Whether the quenelle is an anti-Semitic gesture or not is irrelevant. What really matters is that its creator, Dieudonné, is a known anti-Semite with know, whose ties to the Front National (FN), France''s infamous extreme-right party, are public knowledge.
An acclaimed humorist in the 1990s, Dieudonné began to adopt an anti-Semitic and revisionist stance in the early 2000s. At the time, this was largely perceived as provocation and humor, and not many saw his radicalization coming. In 2006, he was seen at the FN's annual ball, and invited party leader Jean Marie Le Pen to his show in Paris. Dieudonné supported the FN in the 2007 presidential race, and in July 2008, Le Pen became his third daughter's godfather.
In 2009, Dieudonné went a step further and entered the European Elections as a member of the Anti-Zionist party. While he has avoided using the word "Jew" since he faced judicial repercussions in 2007, Dieudonné makes a dangerously liberal use of the term "Zionist." In 2011, he givesA 2011 an interview withto Iranian Television that leaves little doubt on his deeper convictions.
Dieudonné now finds himself under the spotlights again. The controversy surrounding the quenelle culminated last week into an unprecedented turn of events: For the first time, Dieudonné is being condemned directly by the government. Most notably, it is Manuel Valls, Frances Minister of Interior, who seems to be leading a personal crusade against the comedian-turned-anti-Zionist. On Januray 6, Valls sent a memorandum to several mayors and prefects, asking them to ban Dieudonné''s show on grounds of anti-Semitism and disrupting public order. Valls was also backed by French President Francois Hollande.
But Dieudonné revels in controversy. It' is his bread and butter. On his Youtube channel, where he has over 200,000 followers, his most popular videos are replies to celebrities and politicians who have called him out. In fact, since the revival of the quenelle scandal, Dieudonné has been enjoying a resurgence of sorts, a second rise to fame. Everybody is talking about him, whereas a few years ago he almost slipped into oblivion.
So is banning him the best solution? Wouldn't it only reinforce the aura of martyrdom surrounding the comedian, and play right into his subversive showmanship? Wouldn't it be best to ignore this foolishness, rather than encourage it, the way fifth5 graders encourage the class clown?
This is arguably harder to do for the media. People like controversy, and most media outlets are naturally drawn to such stories (five points if you get the meta-reference). But politicians should probably know better than to meddle in such affairs. While Dieudonné''s opinions are unsettling, they were also until now also relatively harmless because of their marginality. Manuel Valls'' personal crusade against the polemist is forcing the public to choose sides, and Dieudonné has been enjoying growing support, even from people who don''t agree with his ideas.
Hollande and Valls might have hoped to raise their profile and score points by attacking the disgraced comedian, who seemed like a wounded animal. But this turned out to be a double-edged sword, whereby the president's current unpopularity has largely worked in Dieudonné's favor. In addition, this enforced ban has raised a nation-wide debate about freedom of speech, one that the Hollande team could probably do without.
Perhaps the French government could use a Millennial in their staff, for they seem to be forgetting the golden rule. Whatever you do, no matter how low the polls drop or how high unemployment rises, never, ever feed the troll.