Golden Globe Awards 2014: Looking Back at Last Year's Most Memorable Moment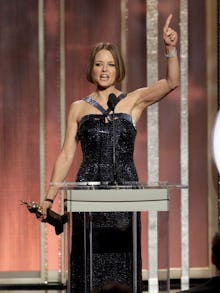 It's hard to anticipate the night's most memorable moment. Could we have guessed that in 2013, the most memorable moment would involve Jodie Foster's lifetime achievement award? The speech was rambly, unforgettable and culminated in the actress coming out (but wasn't she out already? Maybe?). 
With Woody Allen winning (in absentia) the lifetime achievement award tomorrow night, the most memorable moment will not be coming from him — though with Diane Keaton accepting on his behalf it could still take place during the lifetime achievement award segment. That said, with stars like Jennifer Lawrence and Julia Louis-Dreyfus filling out the list of nominees, our 2014 most memorable moment could happen at any minute. 
Check out last year's most memorable moment below.