Black-and-White Photos Show What Ariel Sharon Was Doing in His 20s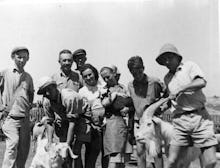 Ariel Sharon, Israel's 11th prime minister and one of its most prominent generals, passed away Saturday morning after eight years in a coma at the age of 85. Sharon was somewhat of a polarizing figure internationally — known as "The Bulldozer," he was considered a heroic general to many Israelis but a ruthless butcher to Palestinians. Either way, he was a major figure in Israel's history and military campaigns, having fought in all five of Israel's wars and serving as a commander of the country's army since it inception in 1948. 
Born Ariel Scheinermann, from a young age he was involved in Israel's military and defense. At the age of 14, Sharon joined the Gadna, a paramilitary youth battalion, and soon after the Haganah, the underground paramilitary force and the Jewish military precursor to the Israel Defense Forces.
Sharon at 14, second from the right via WikiCommons
Within a few years, Sharon quickly climbed the ranks and was made a platoon commander in the Alexandroni Brigade at 19 years old.
Sharon, 19, in Feb. 1948 via WikiCommons
Although Sharon took leave from service studies in history and Middle Eastern culture at the Hebrew University of Jerusalem, he soon returned to active service, on direct orders from Prime Minister David Ben-Gurion, as a major and leader of the the IDF's special forces unit, Unit 101, which took part in several major operations in August 1953 and January 1954. 
Sharon, top second from left, in 1955 via WikiCommons
In the 1956 Suez War (or Suez Crisis), Sharon commanded the paratrooper brigade Unit 202 and was eventually responsible for taking Sinai's Mitla Pass. 
Sharon, left, with other paratroop commandos in 1955 via WikiCommons
Though Sharon's military career was characterized by insubordination, aggression and disobedience, he was also marked as a brilliant commander, which helped him secure a place in Israel's political landscape, ultimately culminating in his serving as prime minister from 2001 to 2006. 
"No-one can lecture me about the need for peace," Sharon once said. "I am the one who was in those battles. Therefore I am the person who can prevent war."