Here's How Much a Marijuana Tourism Vacation Will Cost You In Colorado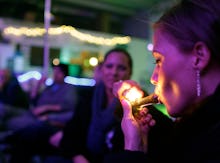 In case you've been living in a no-Internet cave until 10 second ago — pot is legal in Colorado! But what if you don't live in the Rocky Mountain state? Don't worry! Though we're only two weeks into pot legalization in Colorado, a number of weed tourist options have already become available.
Matt Brown recently started My420Tours, one of the many weed tourism services offered in Colorado. For roughly $1,200, guests can sign up for a four-day "Colorado Cannabis Sampler" tour that will chauffeur visitors to various growing locations and provide same, legal places to try different weed strains (smoking outside in public is not permitted and punishable with a $150 fine). My420Tours will also be offering Valentine's Day packages that will include ballet tickets, a couples' massage, and a glass-blowing class where people can make wine glasses or personalized bongs, all for somewhere between $3,000 and $5,000.
Colorado Green Tours also offers bus tours for about $400, which includes visits to several of the newly opened legal dispensaries and a safe place to light up, but does not include the actual weed (an eighth of which is going to cost you about $65). "The demand for our service has been nearly overwhelming — there's a tidal wave," said Peter Johnson of Colorado Green Tours.
Another service, Colorado Highlife has been offering "affordable and discreet excursions" since April, which, for $1,200, includes a limo to pick you up from your hotel and give you a chauffeured ride to local highly-hailed ski resorts, complete with snacks, soda and complimentary pot.
The AP also reported that one company offers a week-long excursion that will take a group of customers to the state's finest glass-blowing shops where elaborate smoking pipes are made, other areas of the state's pot industry, and ski resorts — for $10,000. 
And the local government isn't shy about it either. Although Denver's website is filled with warnings about pot smoking rules and regulation, the city is also providing visitors with a plethora of information — the tourist desk at the Denver International Airport has a list of roughly 20 places in the city to legally purchase weed. 
Finding a safe space to smoke could be a major issue for visitors though. Currently, there's only about 600 hotel rooms in all of Denver in which smoking is allowed, and it's unclear if that will change. 
"I haven't really decided," said Dan King, owner of The Boulder Outlook Hotel. "It's possible that we can designate rooms where marijuana is allowed if there's enough demand."
This sure gives a whole new meaning to visit to the Mile "High" City.