300,000 People Are Completely Without Water in West Virginia — Here's Why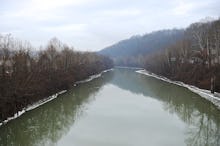 The news: On Thursday, residents of Kanawha County, West Virginia, noticed a stink — similar to licorice — in the air. After an investigation by the local fire department and the state Department of Environmental Protection, the odor was linked to a leak of a coal processing substance into the Elk River at the city of Charleston.
As of Friday, almost 300,000 Americans in nine counties where a state of emergency has been declared by Governor Earl Ray Tomblin have been warned not to drink, bathe in, or cook with their tap water.
"The water has been contaminated," said Tomblin. "West Virginians in the affected service areas are urged not to use tap water for drinking, cooking, washing or bathing."
"Right now, our priorities are our hospitals, nursing homes, and schools," he said in a statement. "I've been working with our National Guard and Office of Emergency Services in an effort to provide water and supplies through the county emergency services offices as quickly as possible."
Up to 5,000 gallons of 4-Methylcyclohexane Methanol, a foaming agent used to wash coal before it goes to market, is thought to have leaked from a 48,000-gallon tank in Freedom Industries' storage facility. The compound can cause symptoms ranging from skin and eye irritation and rashes to vomiting and diarrhea.
"We'd like to start by sincerely apologizing to the people in the affected counties of West Virginia," company President Gary Southern said to West Virginia residents. "Our friends and our neighbors, this incident is extremely unfortunate, unanticipated and we are very, very sorry for the disruptions to everybody's daily life this incident has caused."
Still with six emergency room visits as of Friday, long lines at supermarkets and state operated distribution centers to buy bottled water, paper cups and bowls and many schools closed, Charleston Mayor Danny Jones said it's a disaster: "Everything is closing and that means the Marriott Hotel, that means our Town Center Mall. No restaurant is allowed to open because you can't legally open without water."
"It's caused us more problems than you could ever imagine," Jones said Friday night, pointing out people can't do things like wash their hands after going to bathroom or wash their clothes.
"... It's a prison from which we would like to be released," he said.
The federal government has gotten involved. President Barack Obama signed an emergency declaration authorizing the Federal Emergency Management Agency (FEMA) to coordinate disaster relief efforts. FEMA said Friday that it was sending 75 trucks, carrying about 4,900 gallons of water, to the area. The counties the leak affects are Boone, Clay, Jackson, Kanawha, Lincoln, Logan, Putnam, Roane and the Culloden area of Cabell County.
This almost post-apocalyptic scenario has created a sense of chaos as Governor Tomblin has only expressed uncertainty about when the crisis will be fixed. "I do not know how long this will last," the governor said.