Golden Globes Live Stream 2014: Where to Watch Online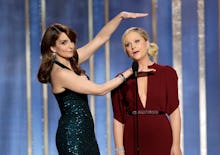 A solid question, and hopefully we can enlighten you. 
Red Carpet Live Stream: The red carpet live stream is coming courtesy of E! who starts their red carpet coverage before many of the stars have even finished showering for the event. E! will have a live stream available beginning at 5:55 p.m. (ET) and we will have the stream for you as soon as it's up. 
Actual Show Live Stream: This one is trickier, and the answer is slightly nebulous. BUT, rumors abound that it will be available on the Golden Globes site itself. We will keep an eye on that and embed video as it comes up.