Girls Season 3 Premiere Recap: Where Are All the Independent Women?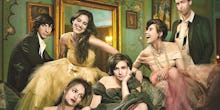 When we last saw the Girls girls, the quartet was in an arguably happier place than they had been all season (though it took bloodied q-tips, romantically kicking down doors and confessions to get there). There's a moment in the Season 2 finale when Hannah is talking to her downstairs ex-junkie neighbor Laird and says:
"You know when you're young and you drop a glass and your dad says like 'Get out of the way' so you can be safe while he cleans it up? Well, now nobody really cares if I clean it up myself. Nobody really cares if I get cut with glass. If I break something, no one says 'Let me take care of that.' You know?"
Though the Season 2 finale was a conclusive coming together (literally, the episode was titled "Together") of couples, the Season 3 premiere is all about exploring the aftermath of abandonment.
If I had to be honest, I would say that Marnie, Hannah and Jessa aren't exactly the poster children I want representing women my age. They're neither as driven or self-assured as I want them to be for New York women, leaving me to feel like maybe they're the type of girls critics talk about when they say millennial women don't "lean in".
The mainstream media has this idea that today's young women choose casual sex over relationships or, even worse, simply can't find men. A quick look at the relationship-heavy Girls Season 3 premiere would seem to prove these stereotypes wrong, until we remember that Adam was once merely a hook-up for Hannah and Marnie was lost in her sexual freedom without Charlie. Unlike the stereotypical depiction of millennials (which Shoshanna herself embodies this episode, living the college girl sexual existence that inspires NYT op-eds) these two girls want stable, supportive boyfriends and that's absolutely fine. What's not fine is that the show seems to think Hannah and Marnie can't survive without them.    
Many critics took issue with last season's finale because it seemed like Hannah and Marnie's many problems and personal failures were solved as soon as the absent men in their lives made triumphant returns. Marnie's lack of financial stability and career were fixed when she and her ex-boyfriend Charlie decided to spend the rest of their lives with each other; Hannah's bumbling inability to function on her own was mended with the heroic re-entrance of Adam. This "boys save the girls" story that Adam and Charlie inspire unravels (a bit) in the Season 3 premiere and makes me wish last season had ended with Hannah and Marnie finding confidence rather than boyfriends.
When we begin Season 3, Hannah is in a better place than last season and Adam is essentially her caretaker, making sure she takes her medicine and "chanting" to help her. She's found someone who cares if she gets cut with the glass. But with the departure of Chris Abbott (Charlie) from the show, Marnie is in shambles post-break-up. Jessa is dealing with her own issues and now living in a rehabilitation center in the middle of nowhere for heroin addiction. She's in rehab only thanks to her grandmother's bribes (she's offered a plane ticket, rent money and Uggs, to be precise.)
When Jessa's only real friend in rehab, Jasper, accuses her of having daddy issues he says, "We all have them. Take time to reflect on the issues that your daddy had with his daddy, and his daddy, and his daddy before him and every daddy that's been going on before that daddy!" The accusation rings beyond merely Jessa's storyline. 
During one particualrly cutting moment in the episode Marnie's mom looses her patience with Marnie's worries about Charlie. She yells at Marnie saying, "He was just one of 12 guys who was going to fuck you over!" Is it the shock of the break-up that has Marnie so tripped up? Or is it just that Marnie's problems were solved in one fail swoop with Charlie's rescue and now she's back where she started: single, with a mediocre job and no real direction in life. Meanwhile things seem perfect in Hannah's life with Adam, but is it really so normal for Hannah to have been so lost and then a man was the key to making it all better? Does she really need a boyfriend to help her take her medicine? Her problem, which was the inability to be independent, to be in control of her life, still isn't solved.
The girls don't need saving, they need to live their lives and figure things out on their own. What Hannah, Jessa, and Marnie all have in common are not daddy issues, but dude and dependency issues. Whether its monetary help from Jessa's grandmother, Hannah's caretaker Adam, or Marnie dependence on Charlie, all three girls need someone to help them do everything. The season needs to let these girls stand on their own feet, or the characters will fall prey not just to harsh stereotypes of millennial women but harsh stereotypes of women more generally.