What Are the Golden Globes?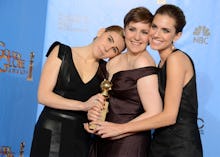 So all of your friends are talking about the Golden Globes, but you're like, "Sorry, what are the Golden Globes again?" It's a good question, one that luckily has a very simple answer to. 
The Golden Globes are an awards show that honors the year's very best in film and television. They're voted on by a group called the Hollywood Foreign Press Association, and they're sort of a combination Emmys-meets-Oscars with dinner and drinking thrown in. 
They started back in 1944 making this year the 71st annual event. They're a little looser and more laid back than the Oscars so expect some funny flubs. As Amy Poehler so humorously put it last year, they're an event where "the beautiful people of film, rub shoulders with the rat-faced people of television."