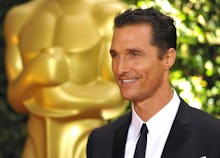 So after all this Golden Globes excitment, you're into awards season now aren't you? Well after tonight's ceremony the next big awards show is THE awards show: the Oscars. 
The Academy Awards nomination announcement is happening this week (Jan. 16) so expect a flurry of chatter right around then. The actual ceremony won't take place for another six weeks on March 2. Also, Ellen DeGeneres will be hosting. Excitement abounds. 
But before we get to the Oscars, we've got to get through the Globes. T-3.5 hours.