Amy Poehler and Tina Fey at the 2014 Golden Globes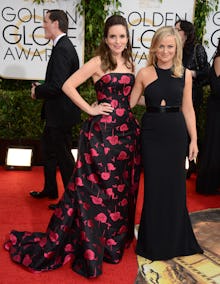 The ladies of the night have arrived, our hostesses for the evening Amy Poehler and Tina Fey have graced the red carpet and they're looking pretty glam. 
The look is very reminiscent of their red carpet look last year when once again Fey was in pattern and Poehler was in black. 
If tonight is anything like last year, the ladies will be hilarious. Here's to hoping they are because they have two more years of hosting ahead of them.