Kerry Washington's Golden Globes Dress (She's Pregnant!)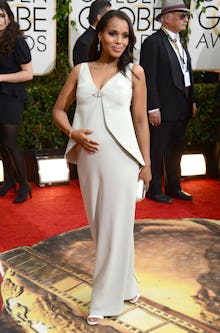 The "is she" or "isn't she" questions about everyone's favorite Scandal star have been answered. And she is. 
Washington is looking ever-so-beautiful on the red carpet tonight in Balenciaga designed by Alexander Wang. As she told the New York Times, Washington realized other actresses were getting the cream of the crop dresses so she took matters into her own hands. She told the Times: 
"There were a couple of actresses whom I felt were having the upper hand career-wise — because they know how to work that red carpet. I was like, 'I'm missing a really important tool.' So I sort of developed a new character: Red Carpet Kerry. And I researched her like any other character."