Jennifer Lawrence's First Brilliant Photobomb Of the Season is All You Need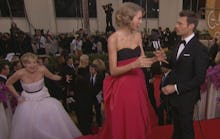 If you were concerned that Jennifer Lawrence was too refined this year for red carpet tom-foolery, think again. The official Golden Globes show has not even begun and J-Law already has a beautiful photobomb to her credit. 
While Taylor Swift is looking demure and chatting with Ryan Seacrest, J-Law stealthily creeps up the stairs behind her looking fierce and terrifying and just as hilarious and unpredictable as we like her too. The moment has already been gifed. Let the J-Law games begin.