15 Behind-the-Scenes Celeb Instagrams That Perfectly Sum Up the Golden Globes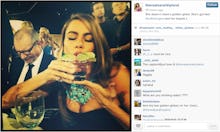 Other than Jonah Hill and Margot Robbie having to improvise after a teleprompter gaffe, the 2014 Golden Globes was a classy and well-orchestrated award show. But a look at the personal Instagram accounts of the stars tells a different, and, frankly, better story. 
All jokes and posed smiles aside, check out some of the candid Instagram moments from the show. 
1. Aaron Paul gets classy.
If they'd had classy filters like black and white back in 1944, I'm sure they would've used them ... wait a minute.
2. Ryan Seacrest takes the selfie all of America wants.
"Are you my dad?"
3. Julia Louis-Dreyfus primps for the "film" section.
Her stylist's focus is pretty unparalleled.
4. Sophia Vergara has her cake and eats it, too.
And it looks pretty delicious.
5. P. Diddy's glaring selfie.
Before he tried to hug Bono ...
6. Jesse Tyler gets to the 'Modern Family' table early.
"I'm starting alone & I don't care!" This is clearly the fun table.
7. Laura Prepon's bizarre filter choice.
Still, this might win the award for hottest couple.
8. Jared Leto's badass beard.
And the award for best male ponytail goes to ... 
9. Zooey Deschanel's daisy manicure.
Quirking. 
10. Sofia Vergara prepares for a long night.
The real "Golden Globes." How many limes can fit around the rim of that glass?
11. Usher takes a selfie with Michael Douglas.
Future Dancing with the Stars duo? 
12. Zosia Mamet encounters Lena Dunham.
Like, OMG you look totally amaze #icant
13. Heidi Klum's poses with her make-up army.
40 going on 20. 
14. Lupita Nyong'o reposts a James Franco selfie.
Beacause everybody loves Franco (as long as he isn't hosting).
15. Katie Lowes' 'Scandal' selfie.
Because even at the Golden Globes, this team knows how to do publicity best.