Amy Poehler and Tina Fey Kill it During the Opening Monologue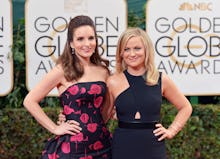 We're here! It's happening! Amy Poehler and Tina Fey, our glorious hostesses for the evening, are on stage and ready to keep the night moving. They've already welcomed all the "women and gay men watching at home." Hilariously, they also delivered the monologue with the exact same patter as when they hosted Weekend Update. 
TV and film stars are coming together tonight and as Poehler said in their opening monologue at last year's Globes, "only at the Golden Globes do the beautiful people of film, rub shoulders with the rat faced people of television."
Highlights from tonight's opening, Poehler calling Matt Damon "a garbage person"; Fey saying the original title for American Hustle was "Explosion at the Wig Factory"; Julia Louis-Dreyfs smoking an e-cig and rejecting a selfie with Reese Witherspoon; making fun of George Clooney saying Gravity was a film about a man who would rather float into space and die than spend one more minute with a woman his own age; 
For a little trip down memory lane as we start our night, take a look back at the duo's opening monologue from this time last year.