Golden Globe Winners 2014: Elisabeth Moss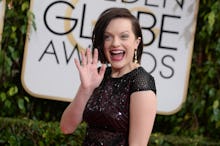 A-list actresses dominated this list and the award went to Elisabeth Moss for Top of the Lake ... which considering the category is amazing. The control room also caught her curse word ... she opened her speech with a nice, round "holy shit." 
Helena Bonham Carter, Burton and Taylor 
Last year's award went to Julianne Moore for Game Change. Last year was a huge year for Game Change.