Bryan Cranston Wins Golden Globe For 'Breaking Bad' (Yay!)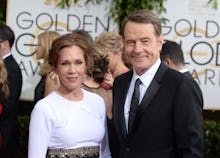 HUGE category and HUGE win for Bryan Cranston — his first win for the show. There were many in the crowd crossing their fingers for Kevin Spacey, but I have a feeling he'll get another shot at this award. 
The heavy-hitting nominee list was made up of: 
Liev Schreiber, Ray Donovan
Last year the award went to Damien Lewis who didn't even make this year's shortlist.