Robin Wright Wins Golden Globe For 'House Of Cards'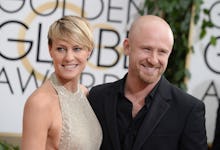 The Golden Globe for Best Actress in a TV Drama goes to Robin Wright for playing Claire Underwood in House of Cards. I'm thrilled. She's amazing. Go watch House of Cards. It's also kind of mind-blowing that she was the princess bride. 
The nominees were:
Julianna Marguilies, The Good Wife
Last year's winner was Claire Danes, further highlight the across-the-board snub for the show this time around.