Golden Globes Winners 2014: Spike Jonze For Best Screenplay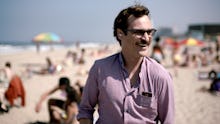 In the Best Screenplay category it was a win for Spike Jonze for his screenplay for the film Her (it was also presented by Emma Thompson who seemed totally drunk, but more on that later). The complete list of nominees in the category were: 
Spike Jonze, Her
This is one of my very favorite categories of the night and Quentin Tarantino's win last year predicted his Oscar win in the Best Original Screenplay category a few months later. Fingers crossed for a Spike Jonze Oscar win.