'American Hustle' Wins Big at the Golden Globes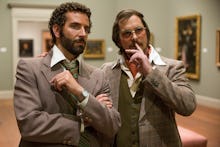 With the really stellar line up of nominees, this was one of the toughest (and least predictable) categories of the night – but American Hustle won. The nominees in the category were:
American Hustle
After wins by Jennifer Lawrence and Amy Adams I guess things were looking in the film's favor, but the DiCaprio win threw me a bit for a loop.
Looks like we'll be seeing more of American Hustle later this year at the Academy Awards.