How Book Porn is Actually Revolutionizing the Book World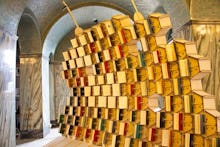 2013 was a fine year for books, and good news continues to roll in. Young people prefer print to e-books, reading a novel supposedly makes the reader more empathetic, and within days of the burning of a Tripoli library, residents rushed to restore its books.
Yet the unsavory rhetoric that lingers whenever we talk about books continues to be funereal with endless references to the end of print. The proliferation of blogs that make centerpieces out of books is among the newest trends in the movement to support — or eulogize — the physical book. The fetishism these sites promote could easily be counterproductive — one site, for instance, caricatures only the spines of books, something that has nothing to do with the content. Another is devoted exclusively to abandoned books on Brooklyn stoops. One might be concerned that these sites encourage people to look at books as objects to be admired rather than read. It turns out it isn't so.
These sites are also a welcome turn away from "saving" books to celebrating the very experience of reading, from browsing spines to discarding finished copies. And they're helping us read more.
One may swipe a finger across an iPad screen to "turn" a page, but that "page" is made of aluminosilicate — not wood fibers.
Now more than ever, we are revering physical books and the places that carry them in what should be the unlikeliest of places — through websites with titles like "Book Porn" and "Library Porn," or through unusual mixed-media sites like "Fuck Yeah, Book Arts!" Want book-shaped bookends or boxers patterned with the spines of books? The "Book Fetish" section of Book Riot has you covered.
The Believer magazine now has an online series showcasing poets' bookshelves in various states of disarray. Image-only sites like Bookshelf Porn collect photographs of how different people stack and order their books. These sites are, in part, reinforcing books as mere trophies, souvenirs for a checklist-happy generation. Aligning physical books with porn yet another layer of unattainability: A book porn blog tantalizes us with a row of colorful jackets and beautiful type, though that's as close as we get.
But the hard numbers about print books tell us people still value the physical medium. According to most recent available data from the Publishers' Association, total physical book sales were down 1% despite tremendous growth in e-book sales. Total sales for physical fiction books rose 3%. Print is making an unexpected comeback even among sites that were once web-only: Jezebel has published a book, the Tumblr-born Los Angeles Review of Books now publishes a journal, and Newsweek is reviving its print edition, which readers thought might have been dead for good.
Revering print and embracing digital are not mutually exclusive, and book blogs are all about using the intangibility and open-endedness of the Internet to celebrate something tangible — and to celebrate it widely. Book Porn, Bookshelf Porn, Library Porn are able to compile endless collections of objects with distinct beginnings, middles and ends. The experience of the format — the creased spines, the thickness of paper, the color of ink — is inseparable from the writing contained within.
Electronic reading won't replace print books. The physical book with its cloth covers, sewn pages and finite space, is of course not enough to contain the volume of written communication available on the Internet. But while an e-book may contain the same text as its printed counterpart, e-readers that mimic the process of physical reading can only come so close to mimicking the physical process of reading.
One may swipe a finger across an iPad screen to 'turn' a page, but that 'page' is made of aluminosilicate — not wood fibers — and anyone reading the e-book won't be fooled. Luckily, physical versus electronic is a false dilemma when it comes to books.
We can gaze longingly at books, and read them too.