Golden Globes Winners 2014: 8 Most Unexpected Wins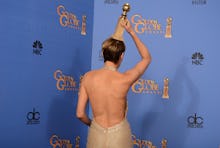 The Golden Globes is a magical night when celebrities gather together in a room, get entirely too drunk, and wait for someone to win who shouldn't so they can tweet about it. It's hilarious.
This year did not disappoint. There were several upsets in the award categories and plenty of comedy from our beloved hosts Tina Fey and Amy Poehler. Here are the eight most unexpected wins in a night of totally expected celebrity mischief. Enjoy.
1. Matthew McConaughey pulls off the greatest career redefinition.
The wily and charming Matt McConaughey was able to step over the likes of Tom Hanks, Idris Elba, and Chiwetel Ejiofor to win Best Actor. In a year where he completely redirected his career, this was the most inspiring capstone.
McConaughey's performance in Dallas Buyers Club was a bit overcome in the press by his shocking weight loss (45 lbs. to be exact), but the HFPA recognized it nonetheless. The best part about him winning, though, was his nod to Dazed and Confused during his acceptance speech with a classic, "All right, all right, all right!" All right indeed, sir.
2. Jacqueline Bisset's drunkenly accepts her award.
Go ahead and save some time by skipping to 2:50 in that video.
NBC bleeped her and ruined this golden moment, but Bisset says, "For those who have given me shit ... I say, like my mother, 'Go to hell and don't come back!'" The Internet blew up with speculation that the star of Dancing on the Edge was a bit wasted onstage, but isn't that what awards shows are for?
Later, Bisset explained that she hadn't had dinner. Be that as it may or may not be, Ms. Bisset was flattered to receive the award 47 years after being honored as a Most Promising Newcomer. Though she was not the winner many expected, had she not been selected, we would never have experienced this wonderfully awkward speech. For that, HFPA, we thank you.
3. 'Brooklyn Nine-Nine' comes out on top.
Not only did Andy Samberg walk away with the award for Best Actor in a Comedy Series, but also Brooklyn Nine-Nine beat out some heavy hitters for Best Comedy Series. An outrage from the nerd culture community will doubtlessly ensue following The Big Bang Theory's failure to win an award. 
Even more impressively, the show beat Parks and Recreation, which is always a favorite, but Amy Poehler got enough attention for one night. I have nothing to say about Girls, but you should be made aware that it was also nominated in this category.
4. Amy Poehler makes out with Bono.
This is a win of a different sort, but a win nonetheless. The Parks and Recreation comedienne steamed up Bono's sunglasses when she went in for an aggressive make-out session before walking up to receive her award for Best TV Comedy Actress. The opportunity was there, and she took it. Good for you, Amy, you deserve it all.
5. Robin Wright wins best TV Drama Actress and then balances her globe on her head.
While House of Cards has certainly made waves as a new TV drama, nobody expected Robin Wright to nab Best TV Drama Actress. While her cool and calculating persona as Claire Underwood can send chills down any viewer's spine, most expected Tatiana Maslany (Orphan Black) or Kerry Washington (Scandal) to walk away with the hardware.
Our best guess is that icy Underwood stare was more than enough to cause the HFPA to wonder what might happen if they didn't give her the award. They might end up like Peter Russo. And yes, before you google that reference, it is a spoiler.
6. 'Her' steals Best Screenplay.
Up against the infinitely less bizarre likes of American Hustle and Philomena, Her was certainly not a favorite for the Best Screenplay (though we called it). The real victory here is for mustachioed men everywhere. Spike Jonze and Joaquin Phoenix managed to convince audiences everywhere that, no matter how creepy your mustache is, you can still find love.
Unfortunately, Siri still isn't responding to my advances.
7. Jon Voight beats out Aaron Paul.
Jon Voight climbed over heavy favorite and beloved meth lab sidekick, Aaron Paul, in the Supporting TV Drama Actor category for his performance in Ray Donovan.
The idea that this lesser-known role outshone the infamous Jesse Pinkman of Breaking Bad is difficult to process, but Paul got his chance in the spotlight all the same when Breaking Bad claimed its own award.
That being said, Paul definitely should have been recognized individually. He's become one of the most quoted and beloved characters of modern television. It's OK, Jon, Aaron didn't want it anyway ... bitch.
8. Emma Thompson loses Best Actress but wins Best Speech.
Let's end on a fun one, shall we? Emma Thompson, fresh off of a very rigid role in Saving Mr. Banks, decided to play it fast and loose as she presented the Golden Globe for Best Screenplay. Martini and shoes in hand, the barefoot actress delivered a wonderful speech about what it means to be a good screenwriter that somehow wasn't overshadowed by the fact that she was behaving like a Real Housewife. Although she didn't win Best Actress, Thompson made great use of the stage.
She may not have been recognized, but she will be remembered.