This is What Has Happened to Marijuana Arrests in Colorado Since Legalization Happened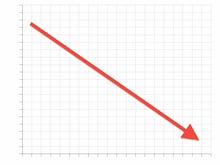 The news: Smokers rejoice! The number of cases filed in Colorado state court involving at least one marijuana offense has plunged 77% between 2012 and 2013, according to a Denver Post analysis of data released by the state's judicial branch.
And the number of marijuana petty possession charges has fallen from 714 a month during the first nine months of 2012 to just 133 per month a year later.
What's more, prosecutors aren't even pursuing marijuana-related charges that remain illegal after the state passed an initiative legalizing recreational marijuana in November 2012. Charges for possession of more than 12 ounces of weed have plummeted 73%. Cases with possession with intent to distribute fewer than five pounds have fallen 70%. And even though Denver police have increased the number of tickets issued for public consumption of marijuana smoking, the overall number of such citations statewide has fallen 17%.
Image: AP
Even the number of prosecutions against people under 21, who can't legally handle or use marijuana under the state's new laws, has dropped. According to state Attorney General John Suthers, "I think [the police have] kind of thrown their arms up in the air" and given up arresting or citing marijuana users, thanks to the complexities of the new law.
And even when marijuana results in an arrest, petty possession cases are being dismissed from court at an unprecedented rate. In 2012, 79% of such charges were dismissed by a judge or prosecutor; in 2013, 84% were.
Why it matters: According to the Post, black people were the target of marijuana-related prosecutions at double the rate of whites. And marijuana prosecutions made up 60% of all drug-related arrests.
So marijuana legalization isn't just removing one of the most onerous ways in which the state has disproportionately penalized its minority residents — it's freeing up the police to focus on actual crime.
Despite harsh criticism from some Republicans (and let's not forget, Democrats) that Colorado is failing to enforce federal law, public opinion has never been more in favor of decriminalizing possession of small amounts of pot. An October 2013 Gallup poll found that 58% of adults favored legalizing marijuana for adult use.
But not everyone is so ecstatic: Some worry that their governments will take half measures instead of following Colorado's lead in legalizing marijuana. In Canada, where the government is flirting with allowing cops to ticket marijuana users instead of arresting them, they will still hold both powers.
According to medical marijuana expert and philosophy professor Doug Hutchinson, "Adding this power to the police arsenal will result in more enforcement, and this is why police chiefs are pressing for it. It will permit police to threaten cannabis users without needing to collect and preserve evidence carefully, for use in the future criminal trial to which every defendant has a right."
"Likewise, if a man armed with a gun threatens you, arming him with a knife as well does not loosen his control over you; on the contrary, this will permit him to threaten you even in situations when he can't fire his gun."