Mia & Ronan Stand Up to Woody Allen, Send Message on Child Abuse Hollywood Must Hear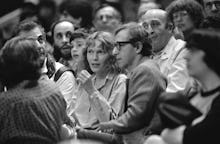 Update: As of Monday morning Mia Farrow added a few more tweets to the conversation. 
Remember when Roman Polanski won the Best Director Oscar for the Pianist in 2002? It caused a huge controversy as some said he deserved the award based on his directing merits, while others insisted his history of sexual violence rendered him unqualified for any industry honor.
Legendary director Woody Allen caused a similar stir last night when he took home the Cecil B. Demille ward, a lifetime achievement honor, at the Golden Globes. Allen's ex-partner, the actress and activist Mia Farrow tweeted her disapproval as actress Diane Keaton accepted the award on Allen's behalf:
Farrow's son Ronan took it a step further:
Ronan's tweet refers to Allen's adopted daughter, Dylan, who accused Allen of molesting her 20 years ago. And of course, Allen's sexual history is even dicier when you factor in his relationship with Mia Farrow's adopted daughter, Soon-Yi.
So, did Allen deserve the award? Probably. After all, a man's deviant behavior doesn't negate his artistic talent and Allen's talent is undeniable. Still, it would have been heartening if Hollywood had put its proverbial foot down, or at least done something to take a stand against sexual violence. Perhaps the Hollywood Foreign Press Association should consider making a hefty donation to one of Mia's many charities as a way of saying, "Woody, we love your movies, but your behavior is abhorrent."