A Suicide Bomber is Roaming the Streets of Beirut, But Not For the Reason You Think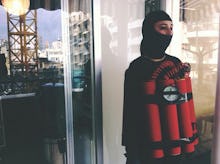 Imagine you're walking down the streets of Beirut and you see a woman covered with TNT bombs. How would you react?
That's what artist Rima Najdi is trying to discover through her performance project, "Madame Bomba."
Image Credit: Facebook
A Lebanese artist based in New York, Najdi debuted the project on Sunday to "shed light on the meaning of being Lebanese and how you don't know when you might be the victim of a bombing or a terrorist act."
Image Credit: Facebook
The project is subtitled "The TNT Project: A public intervention. A mobile dynamite roaming in the streets of Beirut."
Image Credit: Facebook
Dressed in a simple black outfit with mock TNT bombs attached, Najdi strolled through some of the busiest streets in Beirut.
Image Credit: Facebook
According to Blog Baladi, "She is protesting against the normalization of suicide bombing in Beirut and She knows that some people may take a glimpse at her and smile, or think this is a joke, but it is not. This is not a joke. It is a matter of life and death."
Image Credit: Facebook
The project comes following a series of devastating suicide bombings that have rocked Beirut area recently. An attack in November, for example, killed 23 people outside the Iranian embassy.
For more pictures and information on the project, visit the event's Facebook page.