America's Iconic Bourbon Company Just Got Sold Out to the Japanese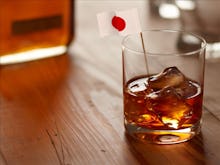 The news: Shares in iconic American whiskey Beam have taken off this week after the company agreed to be purchased by Japanese conglomerate Suntory Holdings for a staggering $13.6 billion.
Suntory is paying a premium of 25% for Beam, which makes Jim Beam and Maker's Mark bourbon and Sauza tequila among others. That's $83.50 a share, or 25% higher than Beam's closing price of $66.97 on Friday. The deal's value was estimated by both parties to be about $16 billion including debt.
As a result, Beam jumped 24% in morning trading to $83.06 on Monday.
Image: AP
"With particular strength in Bourbon, Scotch, Canadian, Irish and Japanese whisky, the combined company will have unparalleled expertise and portfolio breadth in premium whisky, which is driving the fastest growth in Western spirits," said Beam CEO Matt Shattock.
Suntory already holds several Japanese whiskey brands, including Yamazaki and Hakushu, and it handles Beam's distribution in Japan.
Here's what that means: Together, the two companies will control 10% of the world's whiskey. The U.S. currently drinks about 70% of the whiskey it makes, but Germany, Australia, and the UK are huge consumers of American whiskey. Check out these charts provided by Quartz:
Japan? Not so much, with the country drinking just 0.052 liters of U.S.-made whiskey per capita — or about 1.75 oz a person. That's a little less than this shot glass.
In terms of total whiskey consumption, India is easily the world leader, drinking about half of the world's total supply. But most of it is made by Indian spirit company UB India, and when you factor in per-capita consumption, the top three are France, Uruguay, and the good ol' USA:
Here Japan posts a more respectable 0.78 liters per person, or about a 750 ml bottle for every citizen.
When it comes to other kinds of whiskey France is actually the world's largest consumer of scotch, drinking 1.9 liters per person. That's a lot of whiskey.
Beam, based in Deerfield, Illinois, provides over 40% of the U.S. bourbon sales — and bourbon is roughly half the U.S. whiskey market. Their bourbon may be about to get a lot more popular in Japan.