15 Legendary Albums That Were Recorded in Bedrooms, Kitchens, and Garages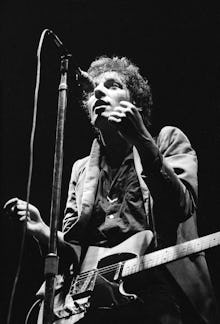 When M.C. Taylor retreated to his mountain home in North Carolina to record Bad Debt at his kitchen table, he didn't think anyone would hear it. That was four years ago. Since, all copies of it were almost burned in a warehouse fire. But today, the album is out under his band, Hiss Golden Messenger, and is being hailed as a great folk record. The praise is deserved.
He isn't the first to make a truly great record in his home. In fact, some of the greatest modern classics were made far away from fancy studios and equipment — using exactly the technology that aspiring musicians have at their disposal right now.
Here are 16 albums that were at least partially recorded at home:
1. 'Odelay' by Beck
Beck went to work on this set of songs in the home of the Dust Brothers. Beck recalls that the room was tiny and that one wall was hidden behind records.
The Dust Brothers' old version of Pro Tools (a commercial recording software) was so slow, that Beck found many of the samples used on the record by listening to albums while he waited for tracks to save. Take note: boredom is productive.
2. 'Nebraska' by Bruce Springsteen
The Boss captured this album's original sound on a tape recorder. What was supposed to be demos for the E Street Band (including the first take of the bitter "Born in the U.S.A.") ended up becoming one of Springsteen's most critically acclaimed records.
3. Emitt Rhodes by Emitt Rhodes
For his 1970 cult-classic, self-titled album Emitt Rhodes recorded in a makeshift recording studio he set up at home. Rhodes taped the instruments on a four track recorder.
4. 'The Creek Drank the Cradle' by Iron and Wine
The first album from Sam Beam was made in his Miami, Florida home. Beam used a four-track tape recorder to capture the sound he wanted.
5. 'Confetti' by Phox
Recorded last year in a two-week period at the band's house, each song is paired with a music video also filmed at their home. The group was basically unknown before the record, and have since played at the iTunes festival, SXSW, and received major accolades from NPR.
6. 'White Ladder' by David Gray
David Gray's breakthrough hit was made in a London apartment. Dave Matthews then released the self-financed album off his ATO Records label and launched Gray into stardom.
7. 'Exile on Main Street' by The Rolling Stones
Unable to locate a studio they wanted, The Rolling Stones recorded this seminal album in the south of France. They settled on a mansion and ran cables to a van outside with their studio equipment.
8. 'Of June' by Owl City
Adam Young recorded this album in the basement of his parent's home. He uploaded the music to his Myspace page when he was done. Soon after, "Fireflies" became one of the biggest songs of 2009.
9. 'For Emma, Forever Ago' by Bon Iver
Justin Vernon went full-on Thoreau (if Thoreau were an extremely sensitive man dealing with heartbreak) and isolated himself in a cabin in Wisconsin cabin to record For Emma, Forever Ago. The album went on to become one of the defining records of our generation, and has launched Bon Iver into Kanye West-feature levels of fame.
10. 'These Friends of Mine' by Rosie Thomas
Rosie Thomas created this album while living in the same Brooklyn apartment as her friend, Sufjan Stevens. Perhaps unsurprisingly, the songs on these recordings share a similar sound to her famous roommate (who recorded much of his own Illinois in various friends houses across the titular state).
11. 'Meadowlands' by The Wrens
The Wrens created new music for this album in their Secaucus, NJ home studio. They made time for sessions before and after the day jobs the band members held. Now, Meadowlands is their best-known record, and a classic of early 2000s indie music.
12. 'Wasting Light' by Foo Fighters
Trying to get back to their roots, the Foo Fighters recorded this album where all struggling bands are born: Dave Grohl's garage. Actually, that's probably only a Foo Fighter thing.
This was their first number one album on the Billboard charts.
13. 'Songs of Pain' by Daniel Johnston
Daniel Johnston taped this album in the basement of his parents' house in West Virginia. Most of the songs off this low-fi album consist of Johnston singing and playing the piano.
He later became the subject of the film The Devil and Daniel Johnston.
14. Dreamin' Wild' by Donnie & Joe Emerson
The Emerson Brothers generated their only album in 1979 in a basement of their parents' home. Their father dropped $100,000 to create the recording studio. 
The album went unnoticed for 33 years before it was reissued in 2012 to extensive critical acclaim. Their song, "Baby," was covered last year and released as Ariel Pink's most recent single.
15. 'Bad Debt' by Hiss Golden Messenger
Bad Debt was recorded in Pittsboro, NC on a tape recorder, and the kitchen of M.C. Taylor's house served as a studio.
He'd returned to his house, world-weary and fearful of a waning music career. He emerged with a brilliant folk record that captures deep feelings of loss and confusion, offering some hope in its beauty.
This is what can be done in a bedroom. Get recording.