What You Need to Know About the Millions of Christians Under Threat in the Arab World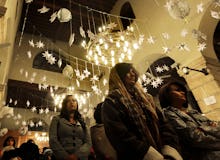 There is a line about an American general questioning an Arab Christian's faith. "When did your family convert?" the general asked. "About 2,000 years ago," the Arab answered.
Often, equating Arabs with Islam and making assumptions about cultural uniformity in the Middle East is not uncommon in the West. Many people have never even heard of Christian Arabs. In reality, Christian Arabs have existed and lived in the Middle East since the birth of Christianity. According to the Oeuvre d'Orient Catholic association, an estimated 10 to 13 million Christians reside in the region, including Arab Christians and expatriates.
This minority population, however, continues to face severe hardships in many parts of the region ranging from inflammatory rhetoric and discrimination to the destruction of churches, killings and even legislation against Arab Christians that are widely unreported by the media. These under-reported atrocities form part of a wider spectrum of instability with governments and extremist groups inflaming sectarianism in the region.
"The Christian community in the Middle East is between a rock and a hard place where you have to deal with the political struggle but also feeling as a second class citizen sometimes," said Rev. Pastor of Salam Arabic Lutheran Church in Brooklyn, NY. "For example, us Palestinian Christians leave Palestine because of the Israeli occupation. But also they are bothered as a Christian community living in Palestine by some Muslim fanatics and they are forced to leave the country."
Here are 11 things you probably didn't know about Christians living in the Arab world:
1. The freedom to practice their religion differs from country to country
In some parts of the Middle East such as the United Arab Emirates and Jordan, Christians enjoy the ability to practice their faith. But in other parts of the Middle East such as Iraq, Syria and Egypt, Christians continue to face violent attacks and discrimination despite their rooted history in the region. 
The recent rise in regional attacks and religious hate crimes also prompted Pope Francis to urge Middle Eastern governments and authorities to protect Christian minorities from violence, saying the Catholic Church will not accept a "Middle East without Christians."
Although the discrimination and violence varies from country to country, the idea of freedom of religion is interpreted rather differently than it is in the West.
"It's too simplistic to lump people all into one category," said photographer Rania Matar, who was born in Lebanon into a Palestinian Christian family and now lives in Brookline, Mass.
2. Even in liberal UAE, evangelizing is punishable by law
Known as one of the most liberal countries in the region, the United Arab Emirates' constitution protects religious freedom on the condition that established local customs, public policy and morals aren't violated.
Like some other countries in the region, Christians are free to worship in dedicated buildings with special licenses or private homes. Evangelism and converting from Islam to Christianity is restricted and punishable by law. Crowds of worshipers flock to these churches to celebrate mass in as many as six different languages including Arabic, Tagalog and Chinese.
Out of respect for local sensitivities, the exterior of these churches do not generally display any religious symbols to designate them as places of worship.
3. Saudi Arabia, one of America's closest allies, won't allow Christianity
In the conservative Kingdom of Saudi Arabia, the public practice of any religion other than Islam is forbidden. Although the government said it would allow non-Muslims to worship in secret, the country's religious police continue to crack down on private services. In 2012, dozens of Ethiopian Christians were strip-searched by police and deported after authorities raided a private service in Jeddah.
Home to more than 1.5 million Christians, mostly Catholics, Saudi Arabia bans blasphemy against Islam, non-Islamic content and often monitors its Christian non-citizen population. Conversion to Christianity, which is considered apostasy, is publishable by death.
4. But many are moving abroad to escape the oppression
The Atlantic's Jeffrey Goldberg, an expert on the region, told USA Today that the persecution of Christians in the Middle East is "one of the most under-covered stories in international news."
Forced to abandon the countries where they're lived for 2,000 years, hundreds of thousands of Christians have fled the more conflict-ridden parts of the region to escape massacres, church burnings and constant death threats due to sectarian violence and targeted attacks.
In 2011, the former president of Lebanon, Amin Gemayel said there was a "genocide" against Christians in the Middle East. "Massacres are taking place for no reason and without any justification against Christians," said Gemayel. "It is only because they are Christians."
5. Syria's civil war has forced thousands to leave their country
The Syrian war, while not a sectarian conflict, has been tragic for everyone with its rising death toll of over 130,000 and uprooting of more than nine million people.
Prior to the civil war, Syria had an estimated Christian population of 2.5 million, including Catholics, Greek Orthodoz, Syriac Christians, Protestants and followers of the Assyrian Church of the East. In recent years, however, desecration of churches, forced conversions to Islam, rapes, clergy abductions and killings have forced tens of thousands to seek refuge elsewhere, in part due to Christians' perceived allegiance to President Bashar al-Assad.
Last November, more than 30 bodies of Christian civilians were uncovered in mass graves in Sadad following an attack by Islamic militants.
"We lived in fear," said 40-year-old Oarda Saliba who fled with her five daughters to Midyat in Southern Turkey. "I was worried for the girls and wouldn't let them go out. In a neighboring village, Christian girls were raped." Even in Midyat, her daughters say they are taunted at school and told they should convert to Islam.
6. Egypt's Coptic Christians continue to face severe discrimination and persecution
Violent attacks against Egypt's Coptic Christians, one of the region's largest Christian communities, have continued to rise since the ousting of Hosni Mubarak in the January 2011 uprising. Expansion of Islamic power following Mohamed Morsi's election as president led to deadlier attacks. However, the violence did not stop after his military ousting in 2013.
Blaming Christians for supporting the coup, many Islamists attacked dozens of churches across Egypt during the summer including the hardline Salafist movement which wants strict Sharia law implemented.
"Salafis meet Christian girls in the street and order them to cover their hair," said Father Mina Adel, a priest at the Church of Two Saints in Alexandria. "Sometimes they hit them when they refuse."
Comprising about 10% of the population, Egypt's Christians also say they face discrimination in schools and the workplace as well as harsh restrictions on building or renovating churches.
While sectarian tension has been a chronic problem in Egypt for decades, scores of churches have been torched across Egypt and hundreds have been massacred by extremists in recent years. Coptic Christians say they hope the new constitution, which seems to offer more religious rights, personal freedoms and a right to protest, will help stop the oppression and allow the country to move forward.
7. Since the U.S.-led invasion of Iraq, Christians have been caught in the crossfire
Mofed, an Arab Christian who left his native Iraq with his wife and three children in 2012, ran a photo shop in Baghdad before several men came into his store and gave him three options: become Muslim, pay $70,000 per capita tax levied on non-Muslims or be killed with his family.
Since the U.S.-led invasion of Iraq in 2003, Muslim extremists have continued to attack Christian churches across Iraq and killings of priests. The Christian population in Iraq has dropped from 1.5 million to about 200,000 in the last decade.
In 2010, al-Qaeda gunmen took more than 100 hostages during an evening mass at Our Lady of Salvation Church in Baghdad. When security forces stormed the building two hours later, 58 were found dead.
8. Even in the birthplace of Christianity, their numbers are dropping
In Bethlehem, the birthplace of Christianity, Christians have continued to face political and economic strife in the last few decades. Christians in the area once made up about 80% of the population. Today, they represent just 20-25% of the population. 
9. There are efforts to drive Arab Christians and Muslims apart
Yariv Levin, a member of the Israeli Knesset, is pushing for legislation that would discriminate between Christian and Muslim Palestinian citizens of Israel including a bill that would force Christian Arabs to call themselves "Christian" on their Israeli identification papers, as opposed to "Arab Christian."
"This is an important, historic step that could introduce balance to the State of Israel, and connect us [Jews] with the Christians," said Levin. "I make sure not to refer to them as Arabs, because they're not Arabs."
Many see the proposed legislation as another effort to drive Arab Christians and Muslims apart. Previous efforts included recruiting Palestinian Christians - but not Muslims - to Israel's military service.
"Arab Palestinians, regardless of their religion, should not join the Israeli army," said Hanin Zoabi, an Arab-Muslim member of the Israeli parliament. "We are a national group, not a religious one. Any attempt to enlist Christians is part of a strategy of divide-and-rule."
Palestinian Christians also deal with a double burden of being a minority whilst living under occupation.
10. Those who have remained, however, still have hope
"The protection of the rights of Christians is a duty rather than a favor," said Jordan's King Abdullah II at a conference on Arab Christian persecution last year. "Christians have always played a key role in building our societies and defending our nations."
Sadly, King Abdullah's more open-minded perception and approach is unique for the region. Still, many Christians still have hope that the violence will end soon.
Many Christian leaders have encouraged their congregations to believe and practice forgiveness as it is mentioned in the Bible, Matthew 5:44, "Love your enemies and pray for those who persecute you."
Head priest Abanoub Gad in Egypt reminds and urges his congregation to "practice that teaching in their own lives and reminds them of the good relations they enjoyed with their Muslim neighbors and friends for decades, to emphasize that the extremists who attack churches do not represent the majority," according to the Christian Science Monitor. Many hope and believe that preaching and practicing forgiveness will help reduce the sectarian violence across the Middle East.
11. Many have sought refuge in the U.S, but still continue to face challenges
"We have an influx of new immigrants now due to the unrest in the Middle East, due to the uprisings, the Israeli occupation, the political struggle, the economy, people coming to this country looking for a better future for their children, and we are seeing more and more Christian immigrants coming here," said Rev. Khader N. El-Yateem. "Recently, of course, the immigrants are coming from Syria."
Egyptians rank as the second highest nationality to receive asylum in the United States. Although immigration statistics do not include religious affiliation, many of the asylum seekers are believed to be Christian. According to a study by the Center for the Study of Global Christianity, the percentage of Christians in the Middle East dropped from 7.1 percent to 4.2 percent from 1970 to 2010. 
Palestinian filmmaker Cherien Dabis's "Amreeka" (Arabic for "America") touches on the immigrant experience with the tale of Muna Farah who moves to the United States only to find out it wasn't what she had imagined. Like many Arab Christians living in the United States today, she and her Palestinian Christian family are often mistaken as Muslim, experiencing misunderstandings, discrimination and abuse both at work and at school. 
Farah best put it in one particularly moving scene: "We are a minority here and a minority there."