This Guy Couldn't Last Longer Than 2 Hours as a Woman on OkCupid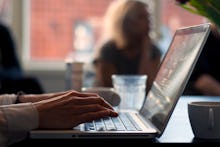 Internet dating — it's what all the kids are doing now. Unlike trying to meet potential singles in bars, clubs or farmers markets, there's a sense of safety and comfort online. Logging off or not responding to someone is a lot easier when you're sitting behind a screen, right? That might be true for a lot of guys, but what's it like for women?
One male Reddit user going by the username OKCThrowaway22221 wrote about his experiences on the OkCupid online dating site while pretending to be a woman. After having a conversation with a female friend in which he said women have it much easier than men on dating sites, OKCThrowaway22221 made himself a profile, using his own basic information but calling himself a woman and borrowing a female friend's profile picture.
The Redditor received a message even before finishing his profile. Before he could craft a response, another bachelor sent him a message, which was followed shortly after by a message from Bachelor #3. Keep in mind, this flurry of messages were being sent to a very basic profile within just a couple minutes of the account being created.
OKCThrowaway22221 also wrote on Reddit, "I feel this is a good point to say that my friend would be the first to say she's a pretty average looking girl."
As more bachelors' messages started pouring in,  OKCThrowaway22221 got overwhelmed. Although the Redditor did his best to respond neutrally and not lead anyone on, the messages he received became increasingly sexual, despite OKCThrowaway22221's best efforts to avoid such online encounters. During the two hours that his fake OKCupid account was operational, OKCThrowaway22221 wrote that his inbox was stuffed with a flurry of "NoStringsAtttached messages, with multiple guys sending me messages asking me to watch them cam, or meeting up with them within the hour, or talk with them on the phone or cyber."
"Guys would become hostile when I told them I wasn't interested in NSA sex, or guys that had started normal and nice quickly turned the conversation into something explicitly sexual in nature," he wrote. "Seemingly nice dudes in quite esteemed careers asking to hook up in 24 hours and sending them naked pics of myself despite multiple times telling them that I didn't want to."
Despite the Redditor's belief that this would be a simple social experiment that would prove his female friend wrong and provide for some fun trolling opportunities, he said the experience made him very uncomfortable, and that after deleting his profile he "went about the rest of my night with a very bad taste in my mouth."
While we might like to think this is a freak occurrence, the fact that OKCThrowaway22221's situation escalated so quickly is certainly unnerving. Although he didn't provide any screenshots of his messages, a subreddit called r/creepyPMs gives a glimpse into the kinds of messages people receive. If these are any indication, the messages OKCThrowaway22221 got seem par for the course for women who use dating sites. Warning: very sexually explicit and NSFW.
Image credit: Reddit
Image credit: Reddit