Against Me! Releases Historic Transgender Album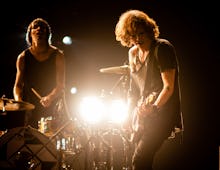 By the time a truly successful band like Against Me! reaches its sixth studio album, there's a real pressure either to totally reinvent or stay exactly the same. It's a tough balancing act, and many groups fail.
But when Laura Jane Grace, the lead singer of the Florida punk-rock band, transitioned from male to female they knew they had to reinvent themselves as a band. Now, they've made the first great trans coming out record — a brilliant, powerful album about rebirth and unconditional love.
In May 2012, prior to beginning her medical transition, Laura Jane Grace revealed to Rolling Stone that she was transgender. In the interview, she revealed her anxieties about being the first major rock star to come out as transgender: "I'm going to have embarrassing moments, and that won't be fun. But that's part of what talking to you is about — is hoping people will understand, and hoping they'll be fairly kind," she said.
Now the singer is ready to dive back into music. The band's new album Transgender Dysphoria Blues, their first in four years, makes her transition a central subject. Although many of the songs have broader, overarching themes, this is the first mainstream record to grapple with issues of trans identity.
And it's incredible.
Songs like "True Trans Soul Rebel" deal with fear of rejection: "Who's gonna take you home tonight? / Who's gonna take you home? / Does god bless your transsexual heart / True trans soul rebel?" the chorus goes. 
The band has evolved in other ways as well: guitarist James Bowman is now the only other original member in the line-up, and the music focuses less on political protest and more on personal evolution. But with Grace's songwriting even more front-and-center than before, it feels like the band has only gotten better.
While other artists such as Lou Reed and the Kinks have arguably tackled trans content in their music before, Transgender Dysphoria Blues may well be the first time that a mainstream artist has provided an album-length, first-person look at her transition experience. And that cannot be lauded enough.
The 10-track, 29-minute album will be released on Jan. 21 through the band's own label — you can pre-order the CD here. If you want to listen to the entire album now — and you should — visit NPR's streaming page here.