Charlamagne Tha God is Changing Journalism and Taking Names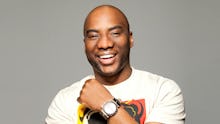 Charlamagne Tha God is wary of what he lets cross his mind these days. It's not what you'd expect from one of mainstream media's most unabashed entertainers.
"It's a bit surreal, and it's a bit scary," Charlamagne tells PolicyMic about his recent ascent — which includes national syndication for his hip-hop radio show The Breakfast Club and a renewed season of MTV2's Charlamagne & Friends. "I say it's scary because I believe your thoughts become things, and I always used to say that I wanted to do a late-night talk show. When you realize that your thoughts become things, you're terrified of what you let come into your head."
It's easy for Charlamagne to think positive right now. Charlamagne & Friends debuted last August as a week-long lead-up to MTV's Video Music Awards, garnering strong viewership with the help of guest spots from 2 Chainz, Big Sean, Nick Cannon and New York Knicks guard Iman Shumpert. The show's first full-length season, which kicks off Wednesday with Ride Along stars Ice Cube and Kevin Hart, will undoubtedly be buoyed by the celebrities that stop by, but Charlamagne knows the show's success rests mostly on his shoulders.
"The best piece of advice I got a long time ago from Wendy Williams and Howard Stern is that if you have to rely on your guests, then you won't have a show," he says. "For Charlamagne & Friends, you have to tune in to see me. If you're not entertained by me, you won't care who the guest is."
An unconventional personality with a serpentine broadcast background, Charlamagne grew up worlds away from the MTV office he meets me in near Times Square. Born Lenard McKelvey, Charlamagne was raised in Moncks Corner, a small town in South Carolina, where he and his relatives would find themselves in and out of trouble with the law. After a third spell in jail, Charlamagne cleaned up his act and went to night school, eventually taking an internship with a local radio station.
Charlamagne met Wendy Williams in 2005, and found himself as a regular on VH1's The Wendy Williams Experience a year later. He worked unpaid for 18 months, only to be laid off in 2008 and weave in and out of unemployment until 2010, when he landed a gig on hip-hop station Power 105.1's morning show. Today, Charlamagne's radio show The Breakfast Club is carried around the country, with syndication from Diddy's nascent Revolt TV network. The program's interview with Kanye West (in which Charlamagne called West "Kanye Kardashian," among other jabs) landed Charlamagne a profile in The New York Times, and the show has run through guests from Arnold Schwarzenegger to Justin Bieber.
Despite an extensive radio background, Charlamagne doesn't fear a crossover career in television. Already a staple on MTV's Guy Code, he knows the medium is irrelevant for a skilled conversationalist.
"The simple fact is that you have to communicate for both. One thing I pride myself on being is an orator. The easiest thing for me to do is communicate, which is why I like radio and television," he says. "I know I have some politically incorrect views and potentially dangerous rhetoric, and I know the easiest thing for me to be is me."
At 33, Charlamagne is right on pace with the legends he studied as an amateur. He's the same age Arsenio Hall was when he got his late-night show, and he started The Breakfast Club far younger than Petey Green was when he got his first radio break. But a bigger stage and a new audience won't make Charlamagne genuflect to the softball questions asked by most talk show hosts. The guy that blew up social media by calling out Miley Cyrus for racial appropriation and likened a post-plastic surgery Lil Kim to Jeremy Lin says he will continue to unspool his unapologetic commentary on all things pop culture.
That's not to say he won't mature as his career progresses.
"I look forward to the day when I'm in my 40s and I get to walk around in suits," Charlamagne says. "I'm not going to become less vocal or stop giving my opinion, but there's always going to be growth and evolution. If I had to show you a model of that evolution, I'd want it to look like Ryan Seacrest, Steve Harvey, Bill O'Reilly, Howard Stern, Wendy Williams. When I'm in my 40s, I want to be doing things like that. I don't want a hat on backwards with a dyed beard going 'yo yo yo!'"
A broadcast journalist with traditional candor and millennial sensibility — his Twitter account tallies more than 108 thousand tweets — Charlamagne is poised for a big 2014. Just don't expect him to take it too seriously.
"I want artists to come on my show, and I want you, the viewer, to get a different perspective of them," he says. "Take down that curtain of celebrity and get to know them. Find out who enjoys Froot Loops for breakfast."