The Untold Story of Alice Walton's DWI Incident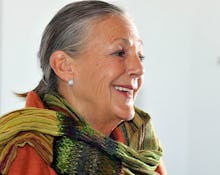 It was a routine arrest, the kind Texas Public Safety officers like Trooper Jeffrey Davis make every day. But little did Davis know that the woman he had just booked for driving while intoxicated possessed a superhuman power. She wasn't able to walk heel to toe. She couldn't put her index finger to her nose if her eyes were shut. She even had a hard time keeping her head up. In other words, she failed the Standardized Roadside Sobriety Test that Davis administered the evening of Oct. 7, 2011 and was arrested.
Yet, she was Alice Walton, heiress to the Walmart fortune, a woman with a superhuman power at her disposal. The power to swipe-up artistic masterpieces prized around the world and horde them in backwater Bentonville, Ark. The power to keep an international payroll of three million people doing your bidding, under the boot of poverty. It's the power to fly, to fly above the law. The superhuman power of money.
Davis might have known he hadn't pulled over just anyone. When he informed her the registration on her SUV was expired. Walton replied, "I have someone who does that for me."
Walton has a lot of people who do things for her; doctors, for instance. Though they couldn't explain away the droopy head, she had two of them write notes to the court in Parker County, Texas explaining that she hasn't been able to maintain her balance when she crashed a jeep into a Mexican ravine on Thanksgiving Day, 1983.
The Acapulco crash that left her left leg shorter than her right, was to be the first of many for Walton. Five years later, while speeding in Fayetteville, Ark., she struck and killed Oleta Hardin, a 50-year-old cannery worker. She never received so much as a ticket.
Walton managed to keep her fender clean for nearly a decade after the deadly collision but, in 1998, she got wasted and totaled an SUV in Springdale, Ark.
"Do you know who I am?" She asked responding officers who charged her with a DWI. "Do you know my last name?" It was a rhetorical question.
Walton's lawyers tried to argue that fatigue from working too hard at the office that day, not her blood-alcohol content six points above the legal limit caused her to plow into a gas meter and telephone booth. The Springdale judge didn't buy it and the charge stuck. Walton paid a $925 fine. Her net worth at the time was an estimated $6.3 billion.
Since then, the Walmart empire has grown considerably and with it Alice Walton's superhuman power. Today, according to Forbes, she's worth $33.5 billion. To escape her latest legal quagmire, Walton went with a disappearing act.
"It will cease to exist for us in any way — literally," Assistant Parker County Prosecutor Fred Barker told the local Dallas/Fort Worth NBC affiliate last October, referring to Walton's DWI charge. Barker's office decided to let the statute of limitations to prosecute Walton expire. They had video evidence of her all sloppy, fumbling through her gymnastics exam, but Trooper Davis was unable to testify after he was mysteriously suspended last March and no blood-alcohol testing was ever conducted. Three weeks later, a Parker County judge granted a petition from Walton's lawyers to remove records of the arrest from the county's file system.
"There's really no way to stop it," Barker remarked. "[I]t's gone, gone, gone."
With her latest foible expunged, Walton appeared on the cover of Forbes, in a piece detailing her "shot at redemption." By redemption Forbes means storing Cezannes and Picassos at a museum she built that's a three hour drive from the nearest population center and raising cutting horses, which apparently she's had no trouble mounting despite her "lack of balance."
But while Walton's DWI charge is gone, gone, gone; trouble has begun to foment in the Walmart empire. The big-box retailer's employees are asking themselves why they are barely scraping by on near minimum wages while company executives and major stockholders like Walton live lavishly. In staging a series of strikes and protests at Walmarts nationwide, they have begun to discover a power greater than the sum of all their parts, a superhuman power of their own. As more and more employees join the show of solidarity that is calling itself Our Walmart and demand a living wage, Alice Walton and her cohorts might just find their own powers vamped.
Correction (2/28/2014): A previous version of this article included an incorrect quote attributed to Alice Walton. The quote has since been removed from the article and the headline has been changed.