Nigeria is Already Locking Up People For Being Gay, Days After Passing Ridiculous Anti-Gay Law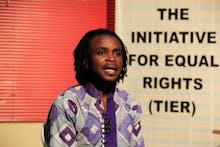 Nigeria's new anti-gay law is the latest nightmare for the country's LGBT community.
The West African country's newly-adopted Same Sex Marriage Prohibition Act (SSPA) — which the Nigerian parliament passed in 2013 and President Goodluck Jonathan surreptitiously signed into law this month — criminalizes gay marriage and civil unions. Scores of people have been arrested n their violation of it. In fact, gay couples arrested for openly displaying their relationships now face up to 14 years in prison under the law. And those arrested in provinces governed by Islamic law may even face death. 
The treatment and acceptance of Nigeria's gay population has been a highly-contentous issue for years. Sodomy was already illegal when the SSPA was passed, and according to a Pew Research Center report released last year, among the 39 countries examined, Nigeria was the most intolerant of gays. While 98% of Nigerians polled consider homosexuality unacceptable, the law's implementation and has incited what the LA Times is calling "an international wave of condemnation."
Even U.S. Secretary of State John Kerry has condemned the law. He said, "the United States is deeply concerned by Nigeria's enactment of the Same Sex Marriage Prohibition Act. Beyond even prohibiting same sex marriage, this law dangerously restricts freedom of assembly, association, and expression for all Nigerians." 
Additionally, some Nigerian activists are fighting to stop the law. Ifeanyi Kelly Orazulike, for example, said that while the law may be intended to target gays, it may harm others as well. It may hinder initiatives to battle HIV in the country, which affects 17% of Nigerian gay men, who may now not seeking treatment in fear of being punished under the law.
Meanwhile, political analysts say the law will be a gain for the president, whose party is facing considerable internal struggles ahead of the 2015 elections. But while the ruling party reaps the law's political benefits, the country's LGBT community suffers its draconian consequences. That hardly seems fair.