Springsteen Burned #1 Fan Chris Christie on 'Jimmy Fallon' Last Night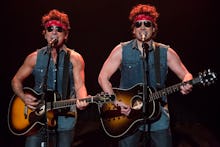 On Tuesday's Late Night With Jimmy Fallon, Bruce Springsteen joined Jimmy Fallon on stage in a parodic reworking of Springsteen's "Born to Run." This time, the classic 1975 song was about Governor Chris Christie's Bridgegate.
Other than being perfectly hilarious — Fallon and Springsteen both donned matching bandanas and jean vests — the song strikes an extra sensitive chord because if you know anything about Christie's musical preferences you know that he loves Bruce Springsteen. Christie famously teared up after hugging the New Jersey musician.
According to Jeffrey Goldberg's 2012 piece for the Atlantic specifically detailing Christie's obsession, the governor has attended 149 of Springsteen's concerts: "His four children all went to Springsteen shows in utero. He knows every word to every Springsteen song. He dreams of playing drums in the E Street Band." After Christie's handling of Hurricane Sandy, the decidedly liberal Springsteen, who had previously been critical of the Republican politician made a peace offering to the fanatical politician — thus the crying.
But with revelations that Christie held up traffic in an area governed by an opponent, Springsteen jumped to critique the politician with the new, succinctly-aimed lyrics: "You're killing the working man / who's stuck in the Governor Chris Christie Fort Lee New Jersey traffic Jam."