Why People in Belarus are Freaking Out Over This Song About Cheesecake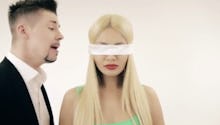 Eurovision season is upon us once again. For the non-Europeans reading, Eurovision is a spectacular, pan-European festival where European nations get to battle it out through the medium of song and stage production in a glorious, pancontinental cheese-fest. 
While the grand finale does not take place until May, these days, countries are already in the process of choosing the act to represent them in Copenhagen. Those who aren't too broke to take part, that is.
On Friday, Belarus decided on Teo and his song "Cheesecake" to represent them in Eurovision 2014. But all is not well in camp Belarus, as the competition has been marred by accusations of foul play. Before we move on, please take a moment to familiarize yourself with the (alleged) winner.
Some of you may now, understandably, find yourself in a state of disbelief. How, you're probably wondering, can there be any doubt that this is the true choice of the Belarusian people? How, with lyrics like "I looked over Google Maps trying to escape/Cus I'm tired of being your sweet cheesecake," can anyone claim this is not among finest examples of songwriting Belarus — nay Europe — has to offer?
But it's true. Runners-up Max Lorens and DiDyuLya have appealed to President Alexander Lukashenko and launched a petition, calling for the result to be overturned. They believe their song "Now You're Gone" is the rightful winner.
Said the duo: "Members of the jury openly ignored the people's opinion, who thought it was our duet worthy to represent Belarus at the European competition in Denmark. Opinion of thousands of people who voted just was not taken into account — eight people have decided for the whole country."
They claim that the country's Eurovision entry — which is decided by a combination of public vote and jury — was overruled by the jury's choice over public opinion. They're also claiming judging irregularities and vote rigging. Their petition currently has over 3,500 signatures.
Eurovision is no stranger to controversy — ranging from artists staging an anti-Putin protest through song, to Azerbaijani citizens being evicted to make room for urban developments when the finale was hosted in Baku.
Yes, Lukashenko has held power for 20 years, despite 2010's controversial presidential election being described as having "a lack of independence and impartiality" and "an uneven playing field and a restrictive media environment." Yes, protests are often cracked down on; politicians, activists and journalists have been harassed and jailed. And okay, other artists in the country, like Belarus Free Theatre, may have slightly bigger issues to worry about than vote rigging. But if you disregard the president's record on democracy and human rights on issues like freedom of speech and assembly, you might appreciate his credentials on defending the freedom of Eurovision.
In 2011, President Lukashenko annulled the results after widespread accusations of fraud, replacing the song entry with the subtle and measured "I Love Belarus." He may step in again this year, to right this alleged wrongdoing.
If nothing else, with Max Lorens and DiDyuLya planning to host a concert called "For Fair Voting" in support of their cause, it might provide a welcome opportunity for Belarusians to gather, safely, under that particular slogan.