World Economic Freedom is At An All-Time High, But Not in One Very Important Country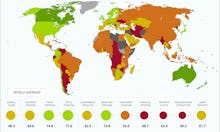 The Heritage Foundation released its annual Index of Economic Freedom on Wednesday, along with an analysis from Terry Miller, director of Heritage's Center for International Trade and Economics, in an article published by the Wall Street Journal. 
The big takeaway: "World economic freedom has reached record levels." Heritage has released the index for two decades, and global economic freedom is at an all-time high. Forty-three countries reached their peak economic freedom in this year's rankings, and 114 saw improvements over last year.
But there is one glaring omission from the index's list of the most economically "free" countries in the world: the United States.
According to Miller, "After seven straight years of decline, the U.S. has dropped out of the top 10."
Take a look at the slideshow of the top 10 from the Heritage Foundation, which breaks down the different scores and categories that go into its rankings: 
See Full List of Country Rankings
The index evaluates countries based on things like government corruption, regulation, property rights, trade freedom and government spending. It's interesting to note that for the conservative Heritage Foundation's index that stresses economic freedom, three "countries that have experimented with milder forms of socialism," as Miller calls them, made the top 10: Switzerland, Canada and Denmark. 
For now, though, the U.S. sits in 12th, right behind Estonia and just ahead of Bahrain.
Check out the full rankings below, courtesy of the Wall Street Journal: