Meet the Female CEO That Everyone's Talking About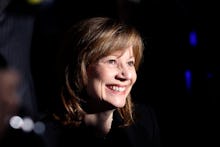 Yesterday marked her ascent into history as the U.S. auto industry's first female CEO, but GM's Mary Barra is far from new to her company — or positive press.
Barra's first public appearance since being chosen to lead GM in December of last year occurred at this week's Detroit Auto Show. Event organizers had to keep the focus on its cars, as Barra was followed by a sea of reporters after GM took top honors in the Car and Truck of the Year Awards Monday. A security guard said he hasn't seen this much attention for GM since 2009, when former CEO Rick Wagoner was pursued to comment on the company's bankruptcy filing.
"[Barra] has a really strong understanding of the fundamentals of how [GM] works," CBS Interactive President Jim Lanzone told Bloomberg Businessweek, "and that's something GM hasn't seen for at least a couple of CEOs."
Leading GM won't be easy. Barra's goals include getting GM to stop losing money in Europe, keeping Cadillac on par with global luxe brands and a five-million vehicle expansion into China. But for all its troubles, the U.S. remains the second-largest auto market after China. And if Barra can leverage it, she could go beyond GM and save our STEM status.
In an era where media coverage of powerful women is still severely lacking, Barra has sparked near universal excitement. Science Buddies' Amy Cowen wrote this week that the month since Barra's appointment has seen a warm welcome from feminists, car lovers and everyone in between.
"With the status of 'girls in science, technology, engineering, and math' (STEM) frequently under the media microscope and a concern for teachers, parents, and community leaders, Barra's history, educational background, and new position in the world of automobile engineering offers a wonderful beacon of possibility," argued Cowen. "To girls who love cars, who love engineering, or who love any STEM subject that is frequently viewed as 'for boys,' Barra's story offers inspiration and a reminder that doing what you love is what matters."
From 2000 to 2010, U.S. STEM jobs grew by 7.9%, a rate more than three times as fast as jobs in non-STEM fields (2.6%). STEM trails only health care as the country's fastest growing sector, and the future's most in-demand careers require STEM degrees. Even if STEM majors choose careers in the arts, U.S. Department of Commerce data shows that their degrees will still yield higher earnings.
But thus far, all the numbers haven't offered enough interest in these fields — especially among females in America. Women have now surpassed men in gaining advanced degrees, yet they represent a mere 14% of the total engineering workforce. As STEM careers flourished in this early century, female graduation from engineering programs fell by 5.2%. And of the 28,000-strong Society of Automotive Engineers, 5% are women.
So Barra's appointment is more than an isolated tale of how company loyalty leads to success. Her status as an auto CEO, and the positive press she has gained, are both enormous steps forward for female STEM visibility. The fiscal and career clout that STEM careers offer is on an uphill ascent, yet too few women are part of it. From a media literacy lens, Marie Wilson nails it: "You can't be what you can't see."
"While there is no simple solution to this problem, part of it should certainly be highlighting role models like Mary Barra for excelling with a STEM education," The Daily Illini's Andrew Horton wrote last month. "Making celebrities of these individuals could be an important step in ingraining the notion in our youth that when it comes to technology, girls can play with the big boys."
It's too easy to ask why it has taken so long to break the auto world's glass ceiling. The fact remains that one finally has — and the positive press is a breath of fresh air.