Oscar Nominations 2014: Full List Of Nominees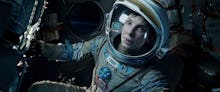 The 2014 Oscar nominees were announced Thursday morning and there are quite a few hopeful nominations. Among the shoo-ins there are also a handful of nods for Dallas Buyers Club, Her and The Wolf Of Wall Street — all of which elicited cheers from the gathered crowd. 
One of the biggest categories on everyone's watch list was the Best Picture category. Due to ballot changes two years ago, the Academy can now nominate anywhere between five and 10 films. Because of the full-to-the-brim year, pundits everywhere were anticipating a big pool of nominees and they were right. This year, the Academy went for nine.
The biggest nominees this year were American Hustle and Gravity, tied at 10 nominations each. 12 Years a Slave is right behind them with nine nominations — and at this point has the best shot at actually winning Best Picture. The divisive The Wolf Of Wall Street also edged its way in (undoubtedly making many people online very happy) including nominations for the usually-snubbed Leonardo DiCaprio, Jonah Hill and Martin Scorsese. 
In terms of notable snubs, Lee Daniels' The Butler was entirely shut out as was Saving Mr. Banks. Inside Llewyn Davis, officially backed by CBS for Best Picture, only made the list in two smaller categories. There were also no nominations for Robert Redford or Tom Hanks, both of whom were considered to be on the Best Actor short list.
The 2014 Academy Awards will be held on March 2, Ellen DeGeneres will host. Check out all the nominations below. 
Best Picture
Best Actor
Best Actress
Best Supporting Actor
Best Supporting Actress
Best Original Song
Best Animated Feature Film
Best Foreign Language Film
Best Director
Best Original Screenplay
Best Adapted Screenplay
Best Cinematography
Best Costume Design
Documentary Feature
Documentary Short
Film Editing
Makeup and Hairstyling
Best Original Score
Best Production Design
Best Animated Short
Best Live Action Short