11 Photos of Natural Disasters That Have Devastated Indonesia This Month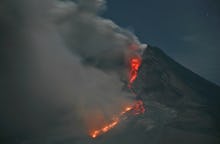 The new year has brought a series of devastating natural disasters to Indonesia: ongoing volcanic eruptions at Mount Sinabung, a heavy monsoon season, and now, flash floods and landslides throughout the archipelago nation that is home to 240 million people. Here are 11 photos detailing the timeline of these disasters.
Our thoughts are with the victims at this time.
1. Jan. 6 — Mount Sinabung erupts
The 8,530-foot volcano in Tiga Kicat, North Sumatra has been sporadically erupting since September, but it has a particularly large eruption early January. Authorities set up a danger zone around the volcano, but many residents flee after volcanic ash and gas rain down.
2. Jan. 11 — Evacuations
Villagers in Sigarang Garang, North Sumatra evacuate cattle due to ongoing volcanic disturbances.
3. Jan. 12 — Ongoing evacuations
Sigarang Garang villagers flee to temporary shelters as heavy volcanic ash falls from the mountain.
4. Jan. 12 — Inspections
Some villagers venture out to the fields to inspect the damage at a coffee plantation in Sigarang Garang.
5. Jan. 13 — Flooding in the capital
Monsoon rails cause flooding in Jakarta, and residents flee on makeshift rafts.
6. Jan. 13 — Police rescue parties
The police travel through the flooded capital to rescue stranded people.
7. Jan. 13 — Citizens evacuate
Citizens in Jakarta try to move public transportation vehicles into safe areas.
8. Jan. 13-15 — Flash floods and landslides
The heavy rains trigger flash floods and landslides in the north. The provincial capital Manado is flooded, and homes in Minahasa are buried under the landslide.
9. Jan. 15 — Mount Sinabung erupts again
After over 30 eruptions, Mount Sinabung forces more than 25,000 people to evacuate, including this village in Sibintun.
10. Jan. 16 — Volcanic ash spreads to surrounding areas
According to reports, Mount Sinabung sends "hot rocks and ash 5 kilometres into in the air, spreading hot clouds over a 4.5-kilometre radius." Villages like Payung are covered by the falling ash.
11. Jan. 16 — Death tolls in North Sulawesi
Indonesia's disaster agency announces that in North Sulawesi, at least 13 people died, two remain missing, and that 40,000 have been forced to flee their homes.