Mackelmore and Ryan Lewis Give Typical New York Commuters a Surprise They Won't Forget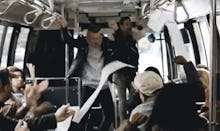 Macklemore and Ryan Lewis did the near-impossible, they charmed a bus full of New York City commuters. The duo took to a city bus, guerilla-style for a performance of their song "Can't Hold Us," ostensibly to promote the pending Grammy Awards (Jan. 26) and to celebrate their own nominations. 
The video, going viral now, is positive all-around. The audience is enthusiastic, Mackelmore and Ryan Lewis give a great peformance and they also just seem generally excited to be on a bus (Mackelmore shouts out "We're on a bus!" before they both depart at a later stop). And perhaps most importantly, they finally got some positive Grammys buzz going.
The independent rap duo are the most nominated of the night at this year's Grammys and are up for seven different awards. Among the awards they're nominated for are Album of the Year, Song of the Year and Best New Artist. Judging by the commuting New Yorkers response to the impromptu performance, they've already won the fan vote.  
Check out the video below.