14 Scary Photos Putin Doesn't Want You to See Before the Sochi Olympics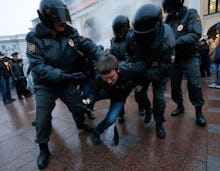 We're only a week away from the start of the Sochi Olympics, and tensions in Russia have only become more pronounced. On Jan. 10, the U.S. State Department issued a travel alert to Americans going to Russia, warning them to watch out for their "personal security at all times" and to avoid public demonstrations, as those "intended to be peaceful can develop quickly and unpredictably, sometimes turning violent."
As Russia sets the stage for the glamorous and pricy international event, it's important to remember the human rights issues that are likely to be whitewashed by the publicity. 
While there are a multitude of reasons for why Russians are protesting, there appears to be one common theme among all of them: the magnitude of the Russian state's reactions is almost always disproportionately large compared to the protests themselves.
For the past few years, most LGBT pride rallies in Russia have started off peacefully, but turned into violent clashes between activists and homophobic nationalists — and, in some cases, the police.
The almost inhumane work conditions of the migrant workers constructing for the Olympics (among many others, unsanitary living conditions, with one day off per month and, for some, no contract) have further exacerbated tensions between Russian nationalists and immigrants.
Anti-migrant demonstrations in Russia continue to be abundant – yet it is clear where the government stands. Law enforcers arbitrarily arrest and even detain hundreds of people "often based on nothing more than their non-Slavic appearance," and xenophobic rhetoric is freely employed by Russian media outlets.
This is undoubtedly linked to the issue of freedom of the press in Russia — or, at least, the lack thereof. Media outlets remain more or less controlled by the state, and state officials have used the (often corrupt) court system to further repress journalists who have dared to stand up. On Jan. 14, American journalist David Satter, who has reported on Russian affairs for almost four decades, was expelled from the country for reasons unknown.
Finally, let us not forget about Pussy Riot. In August 2012, members of the punk rock group were convicted of "hooliganism motivated by religious hatred," and sentenced to two years of imprisonment, having been denied bail and held in custody since their arrest a few months before. Two members have fled the country fearing prosecution. Amnesty International has deemed these unjustified arrests, as it believes that the Pussy Riot members are prisoners of conscience. On the other hand, President Putin justified the arrests, accusing them of "erod[ing] moral fundamentals and undermin[ing] the country," adding that "they got what they asked for."
All these issues have been exacerbated since Putin's return to presidency in 2012 — a reelection that also has been demonstrated against by the Russians, and have met unjustified and disproportionately violent ends.
As an Olympics host city, Russia will have to open up and no longer hide its human rights issues from the world. It will certainly be interesting to see whether — and if so, how — these sources of contention will be brought up in the games.
1. May 6, 2012 — Opposition supporters protest Putin's re-inauguration
2. May 6, 2012 — Protests clash violently with the Russian riot police
3. June 5, 2012 — Over 20 protesters are detained outside the Russian Parliament
4. July 31, 2012 — Police detain protesters in downtown Moscow
5. Sept. 5, 2012 — Police arrest Greenpeace activists dressed as polar bears
6. Oct. 31, 2012 — Protesters at an unsanctioned rally in St. Petersburg are arrested
7. Dec. 15, 2012 — Police detain opposition leader Alexei Navalny at a Moscow rally
8. Jan. 25, 2013 — Gay rights activists outside the State Duma are detained
9. March 8, 2013 — Supporters of jailed band Pussy Riot are detained at a protest in Moscow
10. May 31, 2013 — Opposition protests are detained at an unsanctioned rally in Moscow
11. June 29, 2013 — Riot police detain gay rights activists in St. Petersburg
12. July 31, 2013 — Police detain opposition protesters in downtown Moscow
13. Sept. 25, 2013 — Gay rights activists are detained in Moscow
14. Oct. 12, 2013 — Gay rights activists are confronted at a rally in St. Petersburg