Meet France's Bill Clinton — President Has Affair, Gets Approval Rating Bump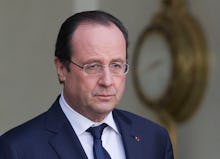 François Hollande is in trouble. The French president rang in the new year with a dismal approval rating, a record low of 24%. Year-end unemployment figures crept up to 3.29 million, more than 10.5% of France's working population. Then he was photographed zipping across Paris on the back of a scooter for a romantic rendezvous with actress Julie Gayet. 
(AP image)
And his approval rating rose two points.
Hollande is not the first world leader to get a bump in the polls from an illicit romp. Bill Clinton's approval rating jumped by 5.6% in the first quarter of 1998, concurrent with the breaking of the Lewinsky scandal and his January proclamation that he "did not have sexual relations with that woman."
(AP image)
Could an affair be the ticket to getting Hollande, who earned the nickname "Mr. Normal" during the campaign, back into the French public's good graces?
The details of the presidential dalliance were first revealed in a seven-page spread in Closer. The tabloid, also responsible for the topless photos of Kate Middleton few years back, documented inadvertently absurd details of Hollande's affair, down to evidence of a bodyguard delivering croissants the next morning.
Hollande is not married, though his long-time girlfriend, journalist Valerie Trierweiler acts in an official capacity as the first lady. At a press conference on Wednesday where he unveiled economic reforms, Hollande said he would clarify whether Trierweiler, who was hospitalized the day the exposé was published, is still the first lady before his trip to the U.S. next month.
France is famously tolerant of its leaders' affaires de coeur. President François Mitterrand's love child under wraps until she showed up at his funeral. Jacques Chirac was known to wander as well. Nicolas Sarkozy was the most blunt about his extramarital affections, filing for divorce shortly after entering office so that he could take up with model/singer/sometimes-actress Carla Bruni.
That tradition still runs strong. In the wake of the revelations about Hollande, 77% of the French public believes private affairs are just that: private.
Americans, conventional wisdom states, are far more prudish than the French when it comes to such things. Reports of infidelity shake the country right down to its 17th century puritan foundations. With our Mark Sanfords and Carlos Dangers, politicians and sex turn up in our headlines with some regularity, and generally are horrible, perverted or just plain weird enough to raise eyebrows across all 50 states.
But harken back to the '90s to consider the scandal most similar to the Hollande affair to take place on U.S. soil: Bill Clinton and Monica Lewinsky. A look at the numbers shows that Americans are not so different from the French after all.
In December 1998, after both houses of Congress passed articles of impeachment against Clinton pertaining to his relationship with Monica Lewinsky, the president's approval rating leaped up by 10 points to register at 73%. That not only set his personal high, it bested Ronald Reagan, too.
However, Hollande is not so fortunate. Unlike Clinton, who lead during great economic prosperity and benefited in the polls from a bipolar party system, Hollande is an unpopular president in an unhappy time.
(AP image)
The two-point bump could have been in anticipation of the long-awaited economic policies he unveiled at his press conference on Wednesday. Or, it is small enough in the grand scheme of things that it could have been a polling fluke. 
Perhaps the French are more progressive than Americans in believing that their president's personal affairs are none of their business. Reportedly, 84% of them said their opinion of Hollande was unchanged by the revelation.
But, then again, there's a thee-to-one chance that opinion was already negative.