T-Mobile is Doing Something Crazy. Like Changing-the-Whole-Cell-Phone-Business Crazy.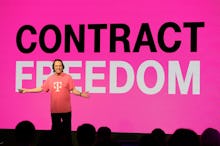 The news: Self-proclaimed "UnCarrier" T-Mobile added 4.4 million customers in 2013 — a rousing year for any mobile carrier. But they're not stopping there. T-Mobile has announced at the Consumer Electronics Show that it will give $650 to any customer who wants to break their contract with another carrier, starting Thursday.
Customers who trade in their eligible device to T-Mobile and switch to a "Simple Choice Plan" will receive up to $300 credit based on the value of their phone. Then, customers can submit a copy of their first bill from the old carrier, and T-Mobile will cover up to $350 in termination fees.
The catch? You have to buy a new phone from T-Mobile, which might not be a bad deal if you're looking to upgrade anyhow. T-Mobile will refurbish and resell your old phone, earning a big margin.
As part of the announcement, their CEO had this to say:
"We will become famous for this in 2014," Legere added at CES. "We're going to force the industry to change. I want every customer to have a complete choice. It's going to be a healthier industry."
Legere is a former AT&T executive, and he got kicked out of AT&T's launch party at CES earlier this week by security:
Why you should care: For one, this might be an out if you hate your contract with Verizon, AT&T or Sprint. T-Mobile offers some good deals with no contract requirements, and its unlimited data plans are better than the competitors' offerings — or lack thereof.
It's also making Wall Street super-duper nervous and hand-wringy, which is a sign that you should be happy. Wall Street analysts are concerned that T-Mobile is forcing mobile carriers to actually compete with each other rather than simply imposing themselves (and their onerous contracts) on consumers. That will make doing business more costly as plan prices decrease and services offered increase, eating into the Big Three and their Wall Street investor's margins.
That's good news for you because you're getting more value for your dollar, and you're probably saving a bit of money. If only cable Internet was changing as well.
But in case you get overjoyed: Remember, these companies are competing for their benefit and your dollar, not to save you a cent. So do the math thoroughly and make sure you'll actually save money before switching to anyone.