Watch King Joffrey Go On An Epic Celebrity Rant. He Makes Damn Good Points.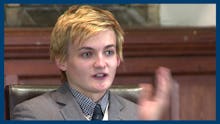 You probably know 21-year-old Irish actor Jack Gleeson as this guy:
But, as it turns out, Game of Throne's King Joffrey in real life is a deeply introspective, thoughtful, and pleasant person, able to dissect his own celebrity and Hollywood culture with remarkable clarity.
During a recent visit to the Oxford Union, Gleeson launched into an enlightening conversation on what, exactly, it means to be a celebrity and how it impacts the rest of us. Watch the video below:
Gleeson says he was initially ambivalent about whether or not he could possibly bring to his talk at the Union: "What the hell would I talk about? ... I haven't tried to foster a universal compassion across the globe, or fought oppression in America, or even, you know, explored the mysteries of the universe, be them hidden in some theory of quantum mechanics or a really mysterious girl. You know, all I've done is acted a TV show and pretend to be mean ... for money. Essentially."
He says that he could have brought his crossbow and threatened some students with impalement, but "that didn't fly with the board," so he turns his attention to the "religious hysteria" of celebrity worship — where it comes from and how it hurts society.
Gleeson says that his own fame was "an environment from which I instantly wanted to retreat. I detested the superficial elevation and commodification of it all, juxtaposed with the grotesque self-involvement it would sometimes draw out in me."
"What's ironic is that you see celebrities endorsing things like musical tampons, and appearing in advertisements for lavender scented teeth whiteners or something," Gleeson says. "Wielding goods whose sell-by dates will ironically, outlast theirs."
Gleeson uses sociological theories to defend his assessment of celebrity, noting that the rise of mass media allowed celebrity itself to become commodified.
He says that it isn't good for celebrities either: "Having one's image, and effectively life, democratized, dehumanizes and sometimes objectifies it into an entertainment product. What sort of valuation of the ego would one have once you've let it been preyed upon by the public for years and years? Perhaps, it becomes truly just skin and bones."
This might be an example of someone putting his money where his mouth is: In November, Gleeson told Ireland's Independent he will likely leave acting after the conclusion of Game of Thrones and focus on charity work instead.
"It was always a recreation beforehand, but when I started doing Game of Thrones, perhaps the reality was made too real for me. The lifestyle that comes with being an actor in a successful TV show isn't something I gravitate towards."