There's a Huge Change Happening On Facebook Right Now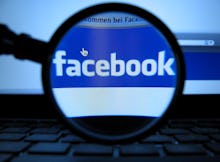 Shocking news: Facebook isn't hip or cool anymore, even President Obama knows it.
The most recent report released by iStrategy Labs compared the demography of Facebook users from this year to that of 2011, drawing data from Facebook's Social Advertising platform on gender, age group, geography, etc.
The report showed that teen users have significantly decreased by approximately 25% in the last three years. At the same time, there had been an 88% growth in users 55 and older. Though there are still more teens than older adults on Facebook, this spotlights a decrease of 3 million teens on Facebook since 2011.
After Facebook's Chief Financial Officer David Ebersman admitted the decline of teenage users on a conference call with analysts, the Daily Mail, reported a fall in Facebook (FB) stock shares.
Why are teenagers losing interest in the site? One general speculation is that ever since Facebook opened its door for all age groups in 2006, it's no longer an exclusive platform for teenagers or college students. As teenagers are increasingly getting friend requests from their parents, teachers, relatives and grandparents, the site might not seem as cool or hip anymore.
Instead, teenagers are flocking to newer and more exclusive social platforms that are out there, for example, Snapchat and Instagram. Instagram currently boasts approximately 150 million active users with 55 million photos being shared on a daily basis. Snapchat has become one of the most popular social apps amongst teenagers and has become a competitor to Facebook. Snapchat refused Facebook's $3 billion offer last year, and they also turned down $4 billion offer from Google.
In October 2013, MarketingCharts released a report analyzing data from Pew Research Center on user demographics of Instagram and Snapchat, which showed that both apps have the most users from the age group 18-29. Although this report did not include the age group younger than 18, it still shows that even young adults are significantly drawn to these simple photo-sharing apps.
What's next: Though Facebook still values at $140 billion, with millions of users, anecdotal evidences suggest that teenagers are continuing to seek and find alternative services they prefer. So if Facebook has lost its cool crowd, then what's the next step? Will it continue its business model as a platform for all age groups, but function more as an email-alternative and a method to keep in touch with acquaintances for the younger generation? What kind of attributes make these newer, younger apps more attractive to teenagers, and can Facebook also earn that back?
It's important to note that Facebook is not unaware of the recent demographic changes in its users. While it continues its model as a social networking service for all age groups, the company has also been investing in these newer and trending apps for billions of dollars rather than completely changing its business model. As it functions as a framework for other social media apps to thrive on, it still gives young people the incentive to sign up for other reasons.
Another reason that's driving young people away may also be that they're not exactly getting what they want on their Facebook news feed, as All Things D suggests.
Mark Zuckerberg's vision for the Facebook news feed is quite literal, as he argued that every news feed should be "the best personalized newspaper in the world" for each user, an idea that hasn't been too welcomed by users. All Things D suggested that while users prefer sharing viral and informal content from websites like 9GAG, Buzzfeed and Imgur, Zuckerberg's idea of the feed contains high-quality, long form articles that would actually make the platform resemble a legitimate newspaper.